1990
Ayrton Senna's super licence is initially refused after the crash in Japan the previous year.
Adrian Newey joins Williams in mid-year as the team's aerodynamics specialist. Later he would be made chief designer and his cars would dominate all through the nineties.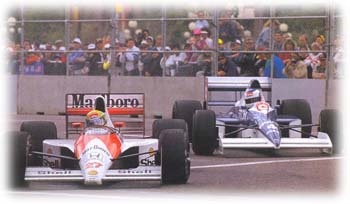 Rookie Jean Alesi leads half the race in Phoenix in a Tyrrell.
Alain Prost wins Mexican Grand Prix from 13th on the grid.
Ivan Capelli and Leyton House almost win at Paul Ricard after failing to qualify in previous round.
Nigel Mansell announces retirement after his car fails at the British Grand Prix while leading.
Martin Donnelly miraculously escapes death in practice crash at Jerez.
Alessandro Nannini is injured in a helicopter accident, and never races in Formula One again.
Ayrton Senna and Alain Prost clash again in Japan, Senna the controversial champion as both are out of the race after the first corner.
The 500th Formula One Grand Prix is held in Adelaide.
1991
Nigel Mansell un-retires and returns to Williams.
Mika Hakkinen makes his Formula One debut at Phoenix.
Jordan team make Grand Prix debut. The Jordan 191 is powered by the Ford HB engine and the team finishes 5th with 13 points in its debut year.
TWR boss Tom Walkinshaw becomes technical director of Benetton, following John Barnard's departure.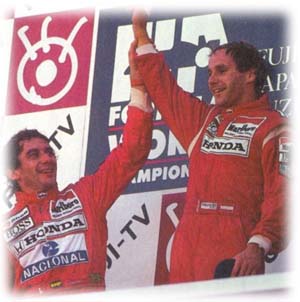 Ayrton Senna starts season with four wins in a row. He rolls in Mexico practice after trying to take the Peralta corner in sixth gear instead of fifth, and later runs out of fuel in two consecutive races.
Michael Schumacher makes his Formula One debut at Spa in a Jordan, where he qualifies an impressive 7th only to retire right at the start of the race. By the next race, however, he appears driving for Benetton.
Nigel Mansell is disqualified in Portugal after a wheel change fiasco.
Ayrton Senna slates FIA President Jean-Marie Balestre after clinching the title in Suzuka.
The Australian Grand Prix in Adelaide is stopped after 14 laps due to torrential rain - making it the shortest race in F1 history.
Alain Prost is dropped by Ferrari after criticising the team.
McLaren win their seventh title in eight years while the Honda engine makes it the fifth in a row.
Mercedes-Benz reveal C291 sports car, it is the first step in the German giant's return to top level motor racing.
Triple World Champion Nelson Piquet retires.
Max Mosley is appointed the head of FISA, defeating Jean-Marie Balestre who ends a 13 year tenure.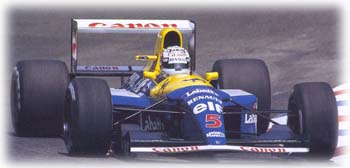 1992
Williams re-introduce active suspension. The car is often in a race of its own.
Nigel Mansell wins first five races in a row, setting a new record.
For the first time in Formula One, the safety car is used at the British GP as a means of allowing the race to continue at a reduced pace in the event of a serious accident.
Ayrton Senna wins in Hungary, but Nigel is crowned champion giving Renault its first title. Mansell also sets a new season win record of nine wins, and retires again to join American CART racing.
The Hungarian Grand Prix sees the last appearance of the Brabham team.
Michael Schumacher scores his first win at Spa in variable weather conditions.
Giovanna Amati becomes the first women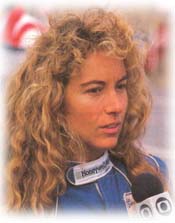 to appear on the entry list for a Formula One Grand Prix since Lella Lombardi drove for March in the mid seventies. She fails in her attempts to qualify for the early season races and is replaced by Damon Hill for the Spanish GP.
1967 world champion Denny Hulme dies from an apparent heart attack whilst driving a BMW M3 in the Bathurst 1000 km touring car race.
Honda withdraws from Formula One.
Ayrton Senna tests Penske-Chevrolet Indy car at America's Firebird Raceway.
1993
FISA is abolished. All motor sport activities now come directly under the FIA, where Max Mosley is elected to the presidency unchallenged.
Alain Prost returns to Formula One with Williams, where he is joined by Williams test driver Damon Hill, son of Graham.
Ayrton Senna wins European Grand Prix at Donington by more than a minute despite changing conditions.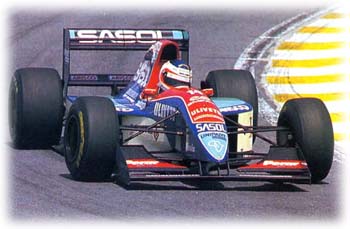 He goes on to take his fifth consecutive win at Monaco, making six wins in total for Senna in Monaco.
Damon Hill scores three consecutive wins after retiring from the lead in earlier races.
Ayrton Senna punches debutante Eddie Irvine in Japan after disagreement.
McLaren pass Ferrari in Grand Prix wins.
Alain Prost retires as champion, with the most wins, fastest laps, points and second only to Fangio with 4 championships.
James Hunt, 1976 world champion and BBC race commentator, dies from a heart attack at his London home.
Innes Ireland, winner of Team Lotus' first ever Grand Prix, dies from cancer.
1994
Mercedes-Benz steps up F1 involvement, funding the Sauber team and taking a 25% stake in engine builder Ilmor.
Team Lotus is sold to a court-appointed administrator, the Australian GP would be the teams last race.
Ayrton Senna joins the Williams team and is considered the safest bet for the championship.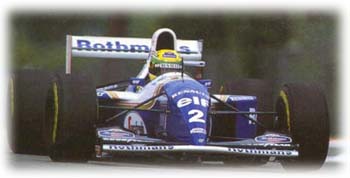 Refueling returns, while traction control and active suspension are banned.
The blackest weekend of the decade at Imola sees Rubens Barrichello crash in Friday practice at Imola, lightly injured; Simtek's Roland Ratzenberger is killed in the Saturday practice, after crashing at Villeneuve corner; JJ Lehto and Pedro Lamy crash, sending debris into the crowd and injuring eight people; and, less than two laps after the restart, Ayrton Senna is killed after going off at Tamburello.
Karl Wendlinger is in a coma after crashing at Monaco, leading to rule changes.
Damon Hill wins emotional Spanish GP for Williams, while Michael Schumacher finishes second after spending more than half the race stuck in fifth gear.
Michael Schumacher overlaps Damon Hill twice during the formation lap of the British GP, then ignores a black flag and eventually receives a two race ban.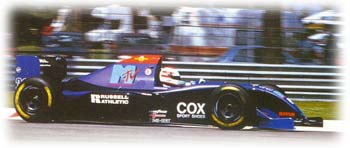 Gerhard Berger breaks long Ferrari victory drought in Germany, while Jos Verstappen's Benetton bursts into flame while refuelling. Mika Hakkinen is given a one race ban for starting an eleven car crash.
Michael Schumacher wins in Belgium only to be disqualified for an undersize plank which is found to be too worn.
Damon Hill wins the race of his life in wet Japan to close up the title battle.
Going into the final race of the season, Michael Schumacher with a one point lead controversially collides with Damon Hill, taking the two out. Schumacher is the first German world champion.
1995
McLaren begin partnership with the Mercedes-Benz funded Ilmor engine builder.
Bernie Ecclestone makes it onto the Sunday Times 'rich list' in 196th place.
Michael Schumacher wins from David Coulthard in Brazil, but both are disqualified due to 'illegal' fuel. Appeal sees both reinstated but the teams lose the points.
Nigel Mansell ends his Formula One season with McLaren after "giving up" during the Spanish GP.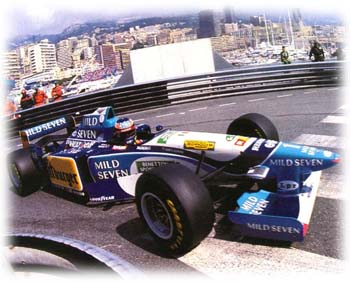 Emotional Jean Alesi wins Canadian Grand Prix - his first and only GP win.
Damon Hill and Michael Schumacher collide again at the British Grand Prix fighting for the lead, allowing Johnny Herbert to take his first GP win.
Michael Schumacher wins Belgian Grand Prix from 16th on the grid in changing conditions, and once again is involved in contact with Damon Hill. They will collide, again, in Monza.
Michael Schumacher wins his second title, with Benetton clinching their first and only constructors' title.
Mika Hakkinen is severely injured in a qualifying crash in Australia, which Damon Hill wins by two laps after David Coulthard crashes into pit wall while leading.
1996
Michael Schumacher joins Ferrari, having signed a multi-year contract with the Italian team for a reputed annual fee of US$25 Million (later to be raised to US$31). He becomes the first motor racing star to enter the Top 10 wealthiest athletes in the world, second only to basketball star Michael Jordan in overall annual income.
McLaren announce the end of the longest sponsorship association, with Marlboro, signing instead with with West.
Reigning CART champion Jacques Villeneuve joins Williams, grabbing pole position on his F1 debut at the new Australian GP venue in Melbourne. He later wins his first race at Nurburgring.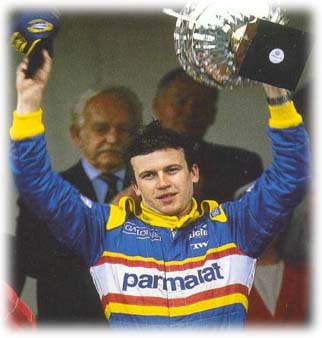 Olivier Panis scores shock win in Monte Carlo, after Michael Schumacher crashes on opening lap after being on pole and Damon Hill suffers an engine failure while leading.
Michael Schumacher scores dominant first win in recalcitrant Ferrari in Spanish rain.
Renault and Elf announce departure from Formula One at the end of 1997.
Bernie Ecclestone launches digital TV at the British GP at Silverstone. The service would commence live coverage at the German race two weeks later. Swipe cards are also introduced to control entry to the F1 paddock.
Williams sacks Damon Hill just before Monza, despite Hill's success.
Damon Hill wins World Championship in Suzuka and becomes the first son of a World Champion to grab the title himself.
Tom Walkinshaw buys Arrows Formula One team.
Legendary motor sports journalist Denis Jenkinson dies after suffering a stroke.
1997
Adrian Newey leaves Williams and joins rivals McLaren as technical director.
Stewart-Ford enter Grand Prix racing under the chairmanship of three time champion Jackie Stewart. The team vows to win a World Championship in five years, and promises to run a tobacco-free sponsored car.
The Michael Schumacher-Ross Brawn-Rory Byrne combination is reunited when Brawn and Byrne joins Ferrari as technical director and chief designer.
Damon Hill ends up at Arrows, and retires on the formation lap at the first race.
Senna trial begins. Five principals from the Williams team, including Frank Williams, Adrian Newey and Patrick Head, are charged with manslaughter.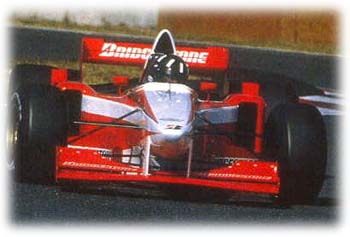 Bridgestone enters Formula One supplying just under half the teams.
Olivier Panis shatters legs in crash at Canadian Grand Prix.
Gerhard Berger misses three races with sinus trouble, but returns to win in Germany. After the race, he announces his retirement from F1 at the end of the season.
Damon Hill almost wins in Hungary, but electrical problems see Jacques Villeneuve pass him on the final lap.
Prodrive boss Dave Richards replaced the flamboyant Flavio Briatore in charge of the Benetton team as of the Luxembourg GP.
Jacques Villeneuve is banned from Japanese Grand Prix after several yellow-flag infringements, while Michael Schumacher wins to set up a showdown in Jerez.
First three drivers clock exactly the same time in qualifying for final race at Jerez.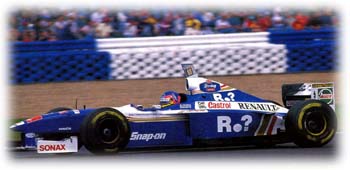 Michael Schumacher leads until Jacques Villeneuve makes a move down the inside at a hairpin, and Schumacher turns in on Villeneuve, damaging Villeneuve's car and putting himself out. Mika Hakkinen scores his maiden win in dubious circumstances, as Villeneuve is crowned the World Champion.
Michael Schumacher is disqualified from the 1997 championship, but retains his wins and points. Williams and McLaren are cleared of allegations that they colluded the results of the Jerez GP.
At Senna trial, all the accused are cleared.
Goodyear announce they are leaving F1 after 1998.
Ken Tyrrell sells his racing outfit to what would become in 1999 a new team - British American Racing - run by Craig Pollock, Jacques Villeneuve's former manager, and financed by British American Tobacco.

1998
Dr Ferdinand 'Ferry' Porsche dies.
FIA introduce new rules mandating narrower track and grooved tyres.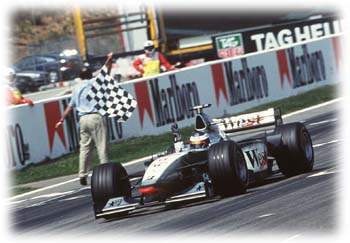 David Coulthard lets Mika Hakkinen win in Australia, later revealing the two had a prior agreement that whoever reaches the first corner first would win the race.
McLaren's 'turning' brake is banned but has little effect on speed.
Sidepod 'X-wings' banned despite being used for a year.
Ford buys long-time engine partner Cosworth from German car maker Audi.
Michael Schumacher wins in rain-soaked Britain, despite crossing the finish line in pitlane taking a stop-go penalty. Schumacher also wins in Hungary after running almost at qualifying speed for 25 laps.
Jordan finish 1-2 in Belgium to take their first win, but controversy erupts after Michael Schumacher collides with David Coulthard while lapping him, Schumacher being restrained when both drivers returned to pit lane.
Mika Hakkinen wins his first championship in the final race of the year at Suzuka.
Indianapolis Motor Speedway announces the construction of a road course within its famous 2.5 Mile Oval track. The Inaugural race is scheduled for September 2000.
1999
Frank Williams is knighted in the British New Year's Honours list for his success in Formula One.
Eddie Irvine scores his first win at Australia.
Long time Formula One designer, Dr Harvey Postlethwaite, dies of a heart attack while observing a test session for Honda. Following his death, Honda ditches plans to return to Formula One as a team and instead signs a contract to supply BAR with engines as of the 2000 season.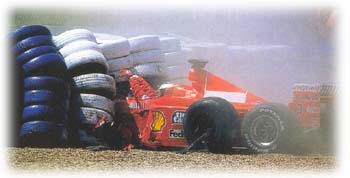 Michael Schumacher breaks his leg in a first lap accident at the British Grand Prix. He would miss the next seven races, leaving Eddie Irvine to mount the Ferrari title challenge, with Mika Salo as Schumacher's replacement.
Ford buys Stewart Grand Prix team. DaimlerChrysler, Mercedes owner, buys stakes in McLaren to further consolidate its partnership
Eddie Irvine wins Austrian Grand Prix after Mika Hakkinen is punted by teammate David Coulthard on the opening lap, Hakkinen recovering to third.
Herbert wins dramatic Stewart 1-3, giving the Stewart-Ford team its first win, at the European Grand Prix.
Michael Schumacher returns from injury with pole in Malaysia, and hands win to Irvine. But Ferrari is disqualified for illegal barge boards, however is reinstated after a controversial appeal.
Bernie Ecclestone sells 50% of his shares in Formula One management to Deutsche Bank's Morgan Grenfell Private Equity in a deal worth $1.3 billion.
Mika Hakkinen clinches his second successive title. Ferrari win constructors' title, their first in 16 years.