1980
The battle to control Grand Prix racing erupts between the Formula One Constructors Association (FOCA) and the Federation Internationale Sportive Automobile (FISA). Its eventual resolution by an agreement known as the Concorde Agreement saw Bernie Ecclestone and FOCA win control of the commercial aspects of Formula One, a situation that continues to this day.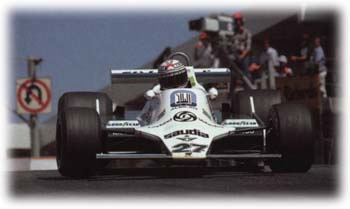 Alain Prost has his first race in a McLaren at Argentina.
Nelson Piquet wins his first Grand Prix at Long Beach.
The Spanish Grand Prix, won by Alan Jones is removed from calendar during the FISA / FOCA wars.
Patrick Depailler is killed in a testing accident at Hockenheim just prior to the German Grand Prix.
Reserve Lotus driver, Nigel Mansell, makes his Grand Prix debut at the Osterreichring, Austria.
Imola hosts its first Grand Prix, temporarily replacing Monza as 1980 Italian Grand Prix venue while Monza is upgraded.
Australia's Alan Jones wins the world championship, a first for Williams.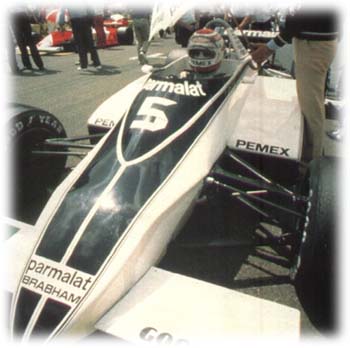 1981
Ron Dennis takes over McLaren, and the team debuts a carbon fibre chassis designed by John Barnard.
The season opening South African GP, won by Carlos Reutemann, is removed from the calendar after the race is boycotted by FISA loyal teams over its decision to ban skirts.
After the innovative twin-chassis Lotus 88 is banned by officials at Long Beach, Colin Chapman threatens to pull Lotus out of Formula One and boycotts the new San Marino Grand Prix at Imola.
In his last race for Williams Alan Jones dominates the first Las Vegas Grand Prix, held in the vast car parks of Las Vegas casinos.
Mike Hailwood is killed in a road accident.
Brazilian Nelson Piquet wins his first world championship for Brabham, with Constructors title to Williams.
1982
Niki Lauda returns from retirement to join McLaren.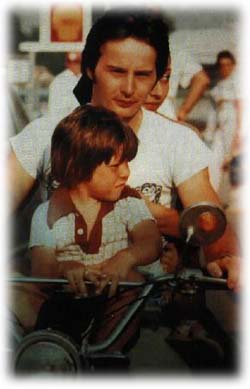 After the introduction of the Super Licence for Formula One drivers, the drivers protest the restrictions of new licence by going on strike before the South African Grand Prix.
BMW debut their turbo engine in the Brabham.
The FOCA teams boycott the San Marino Grand Prix at Imola, leaving Didier Pironi to win in a field of 14 cars.
Canadian Gilles Villeneuve is killed during qualifying for the Belgian Grand Prix at Zolder, after he lost control of his Ferrari due to contact with the March of Jochen Mass.
Riccardo Paletti's Osella crashes into the stalled Ferrari of Didier Pironi during the start of the Canadian Grand Prix at Montreal. Paletti succumbs to his injuries.
Didier Pironi is seriously injured after a collision with the Renault of Alain Prost in pouring rain, during qualifying for the German Grand Prix at Hockenheim, after setting Pole Position.
Keke Rosberg wins Williams' second drivers title, Ferrari the constructors.
Colin Chapman, Lotus founder and Formula One's most innovative designer, dies of a heart attack.
1983
Spirit debut the new Honda turbo engine at the British Grand Prix.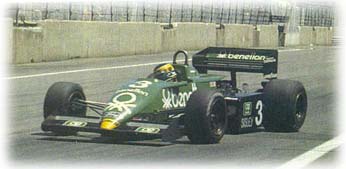 The first race is held at the reborn Spa-Francorchamps.
Michele Alboreto's Tyrrell wins the 155th and last win for the Cosworth DFR/DFY engine at the United States Grand Prix at Detroit.
A first appearance of the TAG-Porsche turbo with McLaren at the Dutch Grand Prix.
Nelson Piquet wins Brabham's last and BMW's only world championship. Ferrari retain the constructors championship for the last time until 1999.
1984
Ayrton Senna makes his F1 debut at Jacarepagua, Brazil.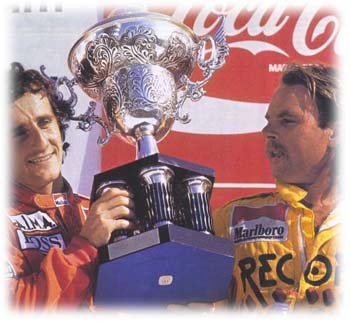 Senna almost wins the Monaco Grand Prix in poor weather. Prost wins after race declared early.
One-off race held in Dallas, Texas, is marred by severe circuit break-up problems.
First race composed entirely of turbo charged cars is held at the Osterreichring for the Austrian Grand Prix.
Tyrrell is disqualified for the entire 1984 season after allegations of infringements with water tanks, ballast and undertray.
Formula One returns to Portugal for the first time since 1960 at the Estoril circuit.
Niki Lauda wins his third world title by half a point from McLaren teammate Alain Prost.
1985
Minardi make their Formula One debut.
In only his 16th Formula One race, Ayrton Senna wins the Portuguese Grand Prix at Estoril.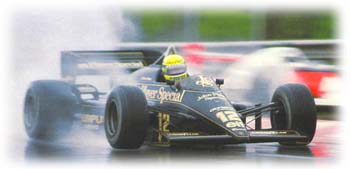 Nigel Mansell wins his first race, the European Grand Prix at Brands Hatch.
French teams Renault and Ligier boycott the South African Grand Prix at the request of the French government, in protest over the South African's Apartheid.
The First Australian Grand Prix is won by Keke Rosberg.
Renault and Alfa Romeo retire from Formula One as teams. Their engines continue in use for another year.
Benetton commence involvement with the Toleman team, first as sponsor (it was sponsor before to Alfa Romeo and to Tyrrell). But, in no time, the Clothing giant would purchase Toleman and enter the 1986 championship as 'Benetton Grand Prix'.
Triple world champion Niki Lauda retires from Formula One.
Alain Prost becomes the first Frenchman to win the Drivers' Championship.
1986
Williams team principal, Frank Williams, is paralyzed in a road accident driving back from a Williams test at Paul Ricard.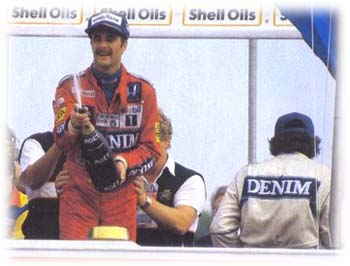 Ayrton Senna beats Nigel Mansell by the smallest margin in the digital timing era, at the Spanish Grand Prix at Jerez (0.014 seconds)
Elio de Angelis is killed in a private Brabham testing session at Paul Ricard.
Jacques Laffite equals Graham Hill's record for most Grand Prix starts (176) at the British Grand Prix, but during the start crashes, breaking his legs and pelvis, ending his career.
Gerhard Berger takes his and Benetton's first win in Formula One at the Mexican Grand Prix. It is also BMW's last Grand Prix win.
The Hungarian Grand Prix becomes the first Formula One race to be held behind the 'Iron Curtain'.
Alan Jones and Keke Rosberg retire from Formula One.
Alain Prost wins the Australian Grand Prix and becomes the first back to back World Champion since Jack Brabham in 1960. Williams wins the constructors title.
1987
Lotus and Williams experiment with active ride suspension, while Honda extends its engine supply to Lotus.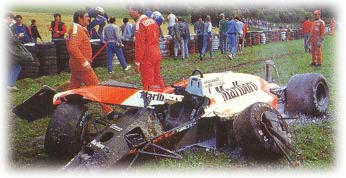 A messy last race is held at the Osterreichring, where Nigel Mansell wins after two start-line pile-ups and a chequered flag shown a lap late. Earlier, Stefan Johansson struck a deer in practice.
Alain Prost breaks Jackie Stewart's record for most Grand Prix wins (28) after winning the Portuguese Grand Prix.
Ex-Ferrari driver Didier Pironi is killed in a powerboat racing accident.
Adrian Newey is appointed the technical director of March.
Formula One returns to Japan for the first time since 1977 for the Japanese Grand Prix at Suzuka.
The FIA announce change to engine regulations with turbos to have pop-off valves for the 1988 season, to reduce power, then to be banned in 1989 in favour of 3.5 litre naturally aspirated engines with a limit of 12 cylinders.
Nelson Piquet wins his third world championship for Williams. Jonathan Palmer wins the Jim Clark Cup for naturally aspirated engined cars.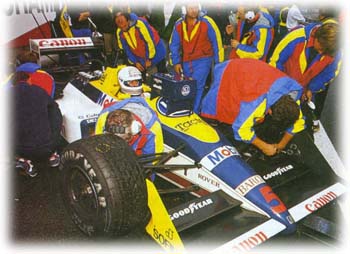 1988
Benetton and Williams lead the change to non-turbo engined cars.
Nigel Mansell misses several races through illness.
Gerhard Berger takes an emotional win in the Italian Grand Prix at Monza - the only non-McLaren win of the season - shortly after Enzo Ferrari died, at the age of 90.
Ayrton Senna's eighth win of the year at the Japanese Grand Prix at Suzuka is a new record for a driver in a single season. McLaren dominate, winning 15 of 16 races.
Ayrton Senna wins his first world championship.
1989
Phillippe Strieff is crippled in a pre-season testing accident for AGS.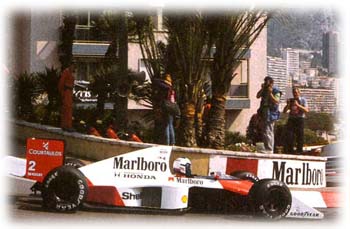 Renault return to Formula One as engine suppliers to Williams.
Formula One reaches a peak in involvement, with 39 cars competing for most of the season.
Riccardo Patrese breaks Graham Hill and Jacques Laffite's record for most starts at the Brazilian Grand Prix.
Former Ferrari and Honda driver Richie Ginther dies of a heart attack, at the age of 59.
Alain Prost wins his third world championship after a controversial collision with his teammate Senna in Japan ensures Prost's title.