Friday April 13th, 2001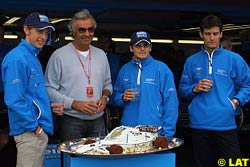 Briatore's Birthday Surprise
The Benetton team finally had cause for celebration on Thursday without even turning a wheel as they threw an unexpected 51st Birthday party for team boss Flavio Briatore.
The team specially baked a cake in the shape of a Grand Prix car with the words "Happy Birthday Flavio" written on the rear wing, and the flamboyant Italian was hit by the surprise when he arrived at the team's motorhome in the Imola paddock - although unlike in the usual food-flying Grand Prix birthdays, Briatore escaped without cake on his face.

Sauber Flying High
The Sauber team is already flying high on the circuit, but the whole team will now be up in the air with the arrival of a new jet. "It is just a small thing," said Peter Sauber, who believes the plane will help the team in their quest for more points. "It's easier for the mechanics. I think it's important to go back on Sunday evening. It's painted up like the car, at the wish of the Pilatus company. It's the first time that we've used it."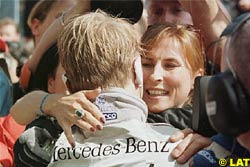 Hakkinen Improves with Erja
Mika Hakkinen will be spurred on at the Imola circuit by the return of his wife Erja to the Grand Prix scene. The Finnish former world champion, who became the father of his first child over the winter, has struggled with his form so far this year. But his performances are sure of a boost with an injection of family inspiration. Hakkinen has never won a race without Erja at the track, so her return could just be the helping hand he needs to kick-start his championship chances.

Viva Las Vegas
Eddie Jordan and Flavio Briatore's prayers were answered when, after calling for more glitz and glamour in Grand Prix racing at the Brazilian event, the Imola paddock was turned into a Las Vegas look-alike. Imola is the first chance for the teams to display their new toys and sponsorship-grabbing motorhomes - and although BAR's unique internet cafe-style facility is a paddock favourite, Jordan has stolen the show with their offering - 'by royal appointment'.
The £1.5 million (pounds) truck conversion was originally commissioned by the Sultan of Brunei but when the deal fell through Eddie Jordan took it up. Inside, the livery was inspired by Eddie Jordan - which just about says it all.

Merry Christmas David
David Coulthard has admitted to receiving a fair share of luck in the first few races, but visitors to his official fan website will see he is looking for even more presents at Imola this weekend - as Coulthard wishes everyone a merry Christmas. Maybe he knows something we don't, but rumours have already surfaced that snow is predicted in San Marino this weekend.
---