Friday April 13th, 2001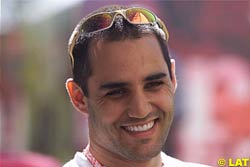 Juan Pablo Montoya has needed only three Formula One races to impress Ferrari president Luca di Montezemolo, who is rumoured to be interested in hiring the Colombian driver for the world champion team.
According to reports in the Italian newspaper Tuttosport, Montezemolo was so impressed by Montoya's performance at the Brazilian Grand Prix that he ordered his staff to look into the chances of signing the 25-year old in a near future.
The current Ferrari drivers Rubens Barrichello and Michael Schumacher end their contract with Ferrari in 2001 and 2002 respectively, and there are rumours circulating about the possibility of Montoya replacing the Brazilian driver at the end of this season.
---