Sunday April 15th, 2001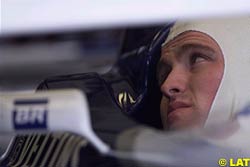 Ralf Targets Championship Success
German Ralf Schumacher is convinced that Williams can challenge Ferrari and McLaren for the world championship this year. Williams have demonstrated their potential in the opening races despite a failure to bank the points their displays merited, but Schumacher believes he and team-mate Juan Pablo Montoya are the men to end Ferrari and McLaren's dominance of the sport.
"We have the ability to win races and everybody in the team expects it to happen," Schumacher said. "Beyond that, I think that we could even go for the championship this year." Not much later he took his first Grand Prix victory.

Hakkinen Backs Raikkonen as Future Winner
Two-time world champion Mika Hakkinen believes young Finn Kimi Raikkonen has the ability to become a Grand Prix winner. But the McLaren driver refused to be drawn on the possibility of Sauber's Raikkonen, 21, becoming a world champion in the future.
"Kimi has already shown enough potential to say for sure that he is going to be a great Grand Prix winner," Hakkinen said. "You can't say if he will be champion, because for that you need to have a special kind of patience, and it is too early to say whether he has that. But he learns new circuits extremely quickly and this is the best sign of a top driver."

Footballers to Join McLaren for Grand Prix
Czech Republic international footballers Pavel Nedved and Karel Poborsky joined the McLaren camp for Sunday's race at Imola. The duo, who play for Italian champions Lazio, are special guests of McLaren sponsors West. Both players were in action for Lazio against Reggina on Saturday and will enjoy a day's rest in the comfort of the McLaren motorhome.

Lauda-Irvine Relationship Just Fine, Says Rahal
Jaguar team-boss Bobby Rahal has denied that Niki Lauda and Eddie Irvine do not see eye-to-eye and insisted that the two have a great deal of respect for each other. Lauda and Irvine have reportedly had disagreements since the Austrian linked up with Jaguar, but Rahal has rubbished suggestions of a rift.
"I don't think there is any disharmony there," Rahal said. "There may be a bit of old Ferrari baggage around, yeah, but that's gone by. A lot of times things are written and they were never said in a certain way. They may not go out to dinner together, but I know Niki and I both have great respect for Eddie and his views."

Raikkonen Finds his Home Away from Home
Formula One rookie Kimi Raikkonen is not taking his seat in the sport for granted, so much so he has bought a house close to Sauber's Hinwil base to ensure he does not miss out in his motorsport education. Raikkonen, 21, has lived in his new home for five days and he is already taken aback by the delights of Switzerland. "I don't get home much," the former Formula Renault driver said.
"I have just moved to Switzerland to live in Hinwil. I have been there for five days now and it is very good, the country is very nice. It is good that I have my own place and that I am closer to the team."
---