Monday April 16th, 2001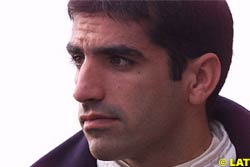 According to reports in the Spanish press, Argentine driver Gaston Mazzacane could be replaced by Spaniard Marc Gene as of the Spanish Grand Prix in two weeks time.
Rumours about Mazzacane being replaced during the season have been constant for some time now, as it is thought he has a performance clause on his contract which would allow Prost to dump him in case he underperforms in comparison with team mate Jean Alesi.
So far, Mazzacane has been much slower than Alesi, qualifying 2.3 seconds behind him at the San Marino Grand Prix.
According to earlier reports, Jordan's tester Ricardo Zonta was the favourite to replace Mazzacane, but apparently no deal was reached and Gene - Williams' test driver - is now the hot favourite.
Gene raced in 1999 and 2000 with the Minardi team, scoring the last point for the Faenza-based outfit two years ago.
According to the reports, if Prost can't reach an agreement with Gene, Frenchman Stephane Sarrazin could become the favourite to replace Mazzacane.
---