Tuesday April 17th, 2001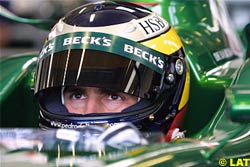 Ford's Premier Performance Division CEO Niki Lauda has said Spanish driver Pedro de la Rosa will be Eddie Irvine's team mate next season at the Jaguar team, replacing Brazilian Luciano Burti.
De la Rosa, current test driver for the Milton Keynes-based team, signed a racing contract with Jaguar for 2002, and rumours concerning which current driver will he replace have been constant. It was even speculated that he could replace Burti this season.
Speaking in an interview with Autocar magazine, Lauda confirmed the young Brazilian driver will be replaced by de la Rosa in 2002, but the triple world champion also said Burti's seat is safe this season.
"De la Rosa has a contract to race next season, so he and Eddie will drive next season," Lauda was quoted as saying. "He is a very good test driver; all his input is straightforward, very precise and accurate.
"The combination of him and Irvine seems ideal to me. "Under the circumstances, Burti is doing a perfect job," Lauda added. "The Spanish media keep asking me if de la Rosa will drive at Barcelona, but I keep telling them he will only race if either of our regular drivers gets ill."
---