Monday April 16th, 2001

Ralf Ready to Join the Schumacher Money Club
Gerhard Berger believes that Ralf Schumacher is ready to join his multi-millionaire brother Michael in the Formula One money club - and keep the family among the richest sporting clans in the world.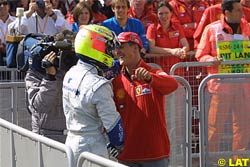 "Can Ralf emulate Michael? Yes of course he can," said BMW motorsport director Berger, a veteran of 210 Grands Prix. "He has got everything he needs to do it, but he will need to stay at this level, build up his experience and stay consistent. "But there is one thing Michael has got that he hasn't got - and that is a really fantastic bank account! This should be just the start for him, he can do it all now!"
While young Ralf works through his Grand Prix apprenticeship at Williams for around $3.5 million a year, his pay is dwarfed by Michael's $25 million on-track salary. Some insiders now believe that the elder Schumacher's earnings are boosted to around $90 million with massive sponsorship deals.

Raikkonen's Ban Lifted
Finnish sensation Kimi Raikkonen may have been forced out after losing a steering wheel at Imola - but he had other things on his mind after gaining permission to add a VIP to his entourage - his girlfriend!
Team boss Peter Sauber banned his drivers from allowing anything to interfere with their concentration during the opening 'fly-away' races but now Raikkonen has been given the go-ahead after a change of heart. "I am not bothered now by the rules," said Raikkonen. "They are not against me. If I want to bring my girlfriend to races now I can. There are no special races."

Elder-Statesman Villeneuve Ready for Respect
Canadian Jacques Villeneuve turned 30 last Monday - and backed the other drivers to show him more respect on the track on future. "It's great to be back racing in Europe but I don't feel much different after celebrating my 30th birthday," Villeneuve said.
"I think people do tend to give you a bit more respect so I expect it will be easier from now on. I didn't do anything special on my birthday, I just got drunk with a few friends!"

Bridgestone Welcome Competition
Hirohide Hamashima, the head of Bridgestone tyre development, has admitted that they welcome competition from rivals Michelin - despite the fact that Ralf Schumacher gave the French tyre suppliers their first win just four races after they returned from a 16-year absence.
When asked whether it was more difficult to produce tyres for the whole grid or just half of it, Hamashima took the opportunity to welcome Michelin back into the Formula One fold. He said: "Both situations are hard for a tyre manufacturer but I prefer competition. From the technical point of view we can try many new ideas for materials, constructions and also new compounds.
"When we produce new tyres we work well with our teams, and our engineers are highly motivated. These are good points, of course, but with competition we have to win so now the pressure is higher. So far we are enjoying it."
Any more wins from the younger Schumacher, Montoya or possibly Irvine and Hamashima may be persuaded to change his mind!
---