Thursday April 19th, 2001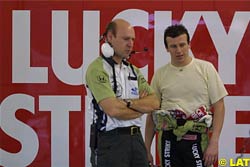 British American Tobacco Plc (BAT) has denied the reports published in the Sunday Telegraph last week concerning the sell-off of their Formula One team British American Racing.
According to the reports, BAT had hired investment bank Goldman Sachs to look into a possible sale of the Brackley-based outfit. However, the company has released a statement denying the rumours.
The statement said: "In light of some recent press speculation, British American Tobacco wishes to emphasise its continuing commitment to British American Racing (BAR).
"The Group has no current intention of reducing its equity interest in BAR and any suggestion that British American Tobacco is considering a sell-off is inaccurate and mischievous."
---