Thursday April 19th, 2001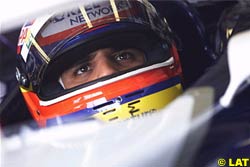 Colombian driver Juan Pablo Montoya said he would only drive for the Ferrari team after world champion Michael Schumacher had left.
Montoya, making his Formula One debut this season with the Williams team, said he would only go to Ferrari as number one driver, something he considers impossible with Schumacher there.
"To go there, you have to have a chance to be number one, but it's obvious you're not going to get equal stuff with Michael there," Montoya said in an interview with the BBC. "Schumacher is undisputed number one at Ferrari - and the team is centred around him. The second driver has to perform to help him whenever asked."
Montoya's comments came following rumours about Ferrari's president Luca di Montezemolo being interested in hiring the Colombian, who admitted he hasn't talked to anybody at the Italian team.
"In any case, I've not talked to anyone there because I don't know anyone," Montoya added.
---