Tuesday April 24th, 2001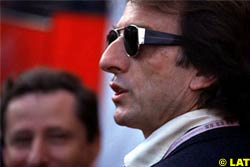 Ferrari president Luca di Montezemolo became a father for the third time on Monday when his wife gave birth to a baby girl.
At around 10 o'clock in the morning , at the "Villa Regina" clinic in Bologna, Italy, Ludovica Andreoni - Montezemolo's wife - gave birth to the couple's first child, and according to Ferrari, both mother and baby are well.
At 53, Montezemolo was already father of two, Matteo, 23, and Clementina, 18.
---