Monday April 23rd, 2001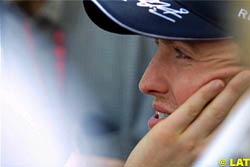 Ralf Schumacher has rocketed in the estimation of London bookmakers after winning the last Formula One Grand Prix but his brother Michael is still the safest bet.
Both Ladbrokes and William Hill said on Monday that Ralf, a 40-1 outsider for the title before the season started and the pace of his BMW-powered Williams became apparent, was now the third favourite at 10-1. Ferrari's triple world champion Michael Schumacher remained the clear title favourite at 13-8 ON. McLaren's David Coulthard, level with Michael in the standings after four races, was second favourite at 2-1.
The odds on Michael winning the next race in Barcelona on Sunday were 11-8 with Ladbrokes and 13-8 with Hill's -- the best price offered by either all season -- while Coulthard was at 11-4 or 5-2. Mika Hakkinen, McLaren's Finnish former champion who has won for the past three years in a row at the Circuit de Catalunya, was quoted at 100-30 for another win there.
Ralf's chances of making it two in a row were put at 6-1 by Ladbrokes, a big change from the 20-1 offered before the season-opening Australian Grand Prix in March. Michael Schumacher won the first two races of the season but Coulthard then broke the German's six-race streak with a victory in Brazil.
"It was good news that Michael had his wings clipped," declared Ladbrokes spokesman Sean Boyce. "A processional championship is very bad for business."
Hill's Graham Sharpe said the end of Michael's period of domination was "like Tiger Woods dropping a few shots. It makes it more open."
Boyce said the firm had also kept faith with Ralf's Colombian team mate Juan Pablo Montoya even though the Williams driver had yet to finish a Grand Prix. Montoya, who led for half the race in Brazil after overtaking Schumacher's Ferrari, was priced at 10-1 for a victory in Barcelona, ahead of Ferrari's Brazilian Rubens Barrichello on 12-1.
"We've kept Montoya on our side, we've fairly consistently offered a shorter price than others," said Boyce. "It may have backfired but we have rated him highly from the off. We are of the view that his luck will turn."
Sharpe expected considerable interest in the race, saying Hakkinen needed a good result if he was not to become number two to Coulthard.
Spain's Pedro de la Rosa, who makes his Jaguar debut on his home track in Barcelona, was 150-1 -- the same unflattering odds as his British team mate Eddie Irvine. The other Spanish driver, 19-year-old newcomer Fernando Alonso who drives for Minardi, was 1000-1.
---