Friday April 27th, 2001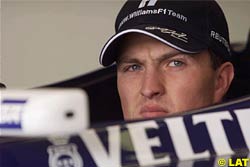 Schumacher in Fashion
Following his recent victory in San Marino, German Ralf Schumacher is hoping to become the height of fashion by launching a new range of clothing. The 'Ralf Schumacher Line' features Schumacher's logo on subtle blue, white and grey colours.
The new range comes alongside Williams' 'Team Line' and their upmarket and exclusive section the 'B-fast collection', which is designed by team outfitters Bogner. BMW's Gerhard Berger and Mario Theissen both attended a launch show in Barcelona, along with Schumacher, and team test driver Marc Gene, who does not have his own collection.

Bike Stars Ride into Town
A couple of stars from two-wheel racing will be visiting the McLaren garages this weekend. Due to a link up of sponsors, 500cc motorbike racers Loris Capirossi and Alexandre Barros will visit the circuit to watch the race. The pair race for the West Honda Pons team in the Moto GP championship, and Italian Capirossi is suffering split loyalties.
"I guess I should support Ferrari because of the Italian connection but I will be supporting Mika Hakkinen and West McLaren Mercedes this weekend," he said, remaining loyal to his sponsors. "I am a great fan of Mika Hakkinen and that is not because we have the same sponsor. I like him as a person and I'm looking forward to watching him this weekend."

Jordan Stay Well Afloat
Many believe Jordan's team principle Eddie Jordan walks on water, but now his team are planning to race on water racing with the launch of their new EJ10 powerboat. The distinctively yellow Honda-powered boat was presented at Port Vell in Barcelona on Thursday and bids to promote the team's new energy drink 'EJ10'.
The team will enter the Honda Formula 4-stroke series, which sees an equally-matched field of 17 boats battling for victory in five British and French races. The Jordan boat will be raced by Channel 4 television presenter Mike Brewer in the first event, in Teignmouth, England next weekend.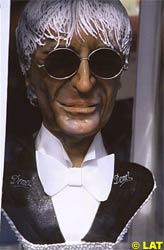 Up for a Bernie
Some of Formula One's greatest stars will soon receive another trophy in honour of the man who created their sport. The 'Bernie' awards will take place at the circuit on Saturday, and Michael Schumacher, Jenson Button, Murray Walker and Professor Sid Watkins will all have the pleasure of receiving a miniature moulding of the sport's supremo Bernie Ecclestone - which we are assured is tastefully created - to place on their mantelpiece. Schumacher will be rewarded for driver of the year and Button will receive his scaled down version of Ecclestone as best newcomer.
Walker, who retires from commentating at the end of the year, will receive a lifetime achievement award, and Dr Watkins claims his for his outstanding contribution to the safety of F1. Walker and Watkins originally received their awards in February, but Schumacher and Button were unavailable at the original presentation. So the decision was made to re-issue the awards with Ecclestone in attendance to capitalise on a PR stunt which was a little stunted first time around.
---