Friday April 27th, 2001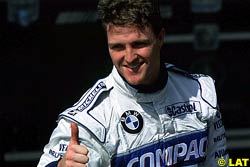 Following the announcement that he got engaged with his girlfriend Cora Brinkmann, German Ralf Schumacher has surprised everyone again when he announced he was going to become a father for the first time.
The Williams driver said in an interview with German Bild magazine, he had asked Brinkmann to marry him after the Silverstone testing last week, only a couple of days after scoring his first Grand Prix win at the San Marino Grand Prix at Imola.
After the surprising win and the announcement of his wedding, 25-year old Ralf surprised the Formula One world again, saying Cora is four months pregnant. Ralf and Cora have known each other for five years and this will be the couple's first child.
This way, Ralf emulates his elder brother Michael, who is already a father of two.
---