Sunday April 29th, 2001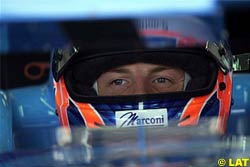 According to reports in the British Press, the Ferrari team are interested in hiring current Benetton driver Jenson Button, and to lure the 21-year old the Italian outfit are ready to offer him a three-year deal worth £24 million ($32 million).
Button, who made his Formula One debut last season with the Williams team, is currently on a two-year loan at Benetton, who are enduring a very disappointing season.
Button, who has qualified on the last row of the grid in the last two races and he is yet to score a point, admitted he would be happy driving for the historic team.
"Any driver would love to drive for Ferrari because they are the world champions," Button told News of the World. "They are the best team at the moment but I am not going to talk about my future."
"Top teams talk to top drivers," Button's manager added. "Jenson would love to drive for Ferrari one day but I cannot tell you who we are talking to."
It is still unclear who would Button replace if the deal is finalised. Rubens Barrichello's contract expires at the end of this year, while Michael Schumacher under contract until the end 0f 2002.
---