Sunday April 29th, 2001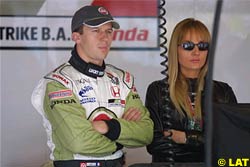 Fine Weekend for Panis and Marques
Frenchman Olivier Panis is becoming a bit of a bad boy in the eyes of the FIA because he just cannot slow down when he is meant to. The British American Racing driver has received another fine for speeding in the pitlane - his third since the season began - and European Minardi's Tarso Marques also received a penalty to become the eighth driver to receive a ticking-off from the FIA this year. Marques was clocked at 66 mph in the Barcelona pit-lane and was consequently fined $1,500.

Barcelona Developing for Spanish Revolution
The Circuit de Catalunya has a massive seven new grandstands around the track for this weekend's Grand Prix, and they are continuing their development at a pace as the demands on Grands Prix circuits for perfection continue to grow. The Barcelona race is never really very well attended, with the Spanish motorsport fans preferring to support the Rallying efforts of their hero Carlos Sainz rather than Formula One.
But with 19-year-old Minardi star Fernando Alonso and Jaguar's new racer Pedro de la Rosa both hailing from Spain the Barcelona circuit is clearly preparing for a surge in popularity for the sport. More grandstands are planned for next year, including the building of a second storey along the entire startline complex, and the organisers have even announced the Grand Stand prices for next years race already.

New Tracks in the Offing
Speculation is growing over the future of the San Marino Grand Prix after the Imola event two weeks ago was the last currently contracted. Bernie Ecclestone has not yet offered the Italian circuit a new deal for more than one year, and with more and more countries bidding for races it is possible that with another race already held in Italy at Monza, Ecclestone could be looking for other options. But the only circuit that could possibly be ready is South Africa as the new circuits in Dubai, Bahrain, and Lebanon are not close to completion.

Dennis Hints at Restructuring
McLaren chairman Ron Dennis has hinted that Formula One could be set for a face-lift after last week's announcement that the SLEC holding company will have the commercial rights to the sport for the next 100-years. SLEC, owned by Bernie Ecclestone and German media giants EM.TV and Kirch, sealed the deal for a reported $360 million (US Dollars).
"I don't think this is the time or the forum to comment but what I will say is this is only the first step in a series of steps which will lead to a restructuring," said Dennis. "I do think it is right that the deal should enable the FIA to be completely separated from the commercial rights, but I am not sure the price is right."
---