Saturday March 31st, 2001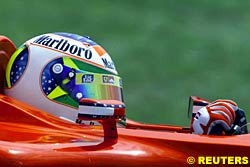 Rubinho's Helmet Up for Grabs
Rubens Barrichello has revealed that a lucky spectator could win his new helmet after he has worn it in Sunday's Brazilian Grand Prix. The local driver has a new helmet design specifically for this race, incorporating the Brazilian colours of green and yellow. "I wanted to do something for Brazil," said the Ferrari driver. "I love racing for Brazil and I hope we can organise something for someone in the stands, some ordinary person who has saved up his money and bought a ticket."

Drivers Disagree Over Bumpy Ride
Opinion is divided over the notoriously bumpy Interlagos circuit. Some drivers say it is smoother, others that it is still very bumpy. Rubens Barrichello claimed that it is better than last year and that the bumps on the straight are smoother. "Although it's still a bit bumpy, it is now much smoother than it was," said the Ferrari man. The surface has been resurfaced in the past, but at that time, they simply resurfaced the bumps and it was just as bad as before. David Coulthard, however, said: "It's hard to describe how bumpy the track is. You are really struggling to keep your eye line and the first run today was a bit of a shock to the system." Teammate Mika Hakkinen agreed: "It's incredibly bumpy out there. It seems to get worse and worse every year."

Schumacher Slams Sauber Talk
Michael Schumacher has said that stories connecting him with a shareholding in Sauber are "illogical". He continued: "I don't know where it's coming from, but it's totally illogical. I've always said that I never really want to get involved in some kind of job like that. I can't see myself as being a team owner." Schumacher revealed that it had caused a great mirth at Ferrari. "Jean (Todt) came along and said 'listen, before you buy Sauber, you should buy Ferrari.' I said I would have to drive until I'm as old as you to have the money to afford it. No, there is no truth in it." The story has been revealed as a complete fabrication, made up by a Brazilian journalist and a Portuguese colleague.

Jordan's a 'no-Go' in the Pitlane
Eddie Jordan has said that the reason why the pits and garages are a 'no-go' area now is because of the danger of photography - and more importantly the photographs being passed to rival teams. "I've never personally paid for pictures of another car," said Jordan. "But I bet my team has - they'd be crazy not to. Every team does. But that's the reason why the garages have to be closed, because everyone needs to protect any possible technical advantage - and photographers take high definition pictures." Teams almost regularly have security men on the door of their pits to stop uninvited guests, but Jordan also revealed that the screens seen blocking the view into the pits in Australia had been removed by common consent.

Burti the Web Wizard
Jaguar driver Luciano Burti has launched his new website to coincide with the his first ever run in the Brazilian Grand Prix. The Brazilian driver, who is lining up for his first season as a Formula One driver alongside Eddie Irvine, has included information on his career and latest news about him on the website. The site also includes a games area where the top three players can win original Burti helmets and runners up prizes of T-shirts and caps. The site can be translated into English or Portuguese and its web address is http://www.lucianoburti.com.
---