Saturday March 31st, 2001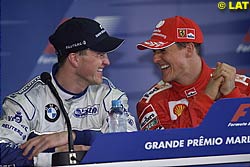 FIA Cash In on Speeding
The FIA has had a good time in Brazil by collecting more fines from speeding drivers. After Jenson Button and Olivier Panis contributed generously to their coffers in the first two Grands Prix of the year for speeding offences, it has been the turn of Mika Hakkinen, David Coulthard and Jos Verstappen to contribute at Interlagos.
Arrows driver Verstappen was the first to be fined for doing 66.2 kph in the pit lane - that cost him $1750 (US Dollars). McLaren driver Hakkinen was just 1.7 kph over the 60 kph limit so that only cost him $500 (US Dollars) but his team-mate Coulthard clocked 66 kph to leave him $1500 (US Dollars) out of pocket. In the three events so far this year, the FIA has collected $8800 (US Dollars).

Weber Wager Leaves Schumi Manager Out of Pocket
The manager of the Schumacher brothers Michael and Ralf, Willy Weber, said he lost a 100 Dollar bet on who would claim pole position in Brazil. Weber said: "I had bet 100 dollars that Ralf would be on pole position here, but I am not telling you who with. And I am not telling Michael either! It was a bet with someone else in the paddock....Now I have made another 100 Dollars bet that they both land up on the podium, so I hope they do. But I have backed that by betting on them both to win. It is like an each way bet for me." Michael, of course, took pole closely followed on the grid by second-placed Ralf.

Todt Cautious Over Schumacher Clash
Ferrari sporting director Jean Todt was pleased to see his team's driver Michael Schumacher on the front row for the Brazilian Grand Prix with younger brother Ralf in a Williams, but erred on the side of caution when asked about the possibility of a clash between the two siblings before the first corner. "Well they are there now, at the front," said Todt. "But they have often been together near the front, one behind the other, so honestly for me it is no surprise. But it has a great meaning for them and I can understand that feeling. They are very joyous about it. I just hope we are all as happy after the first corner."

Frentzen Refuses to Lay Blame for Lack of Brother!
As the paddock focused on the first brothers to sit on the front row for a Grand Prix in the history of the sport, Jordan driver Heinz-Harald Frentzen had his own opinion on the two Schumachers occupying one-two on the grid. Frentzen tried to imagine how it would feel to have a brother on the front row for a race and refused to blame his father for the impossibility of it ever happening.
Frentzen said: "I have to say if I would have a brother and if he sat with me on the first row I would be extremely proud of my brother...That is the truth. I would be so proud if I was one of them. It is very positive. If I had family on the first row with me it would be a very special feeling, but I cannot blame my father for this. I have a sister, but no brothers."
---