Thursday November 15th, 2001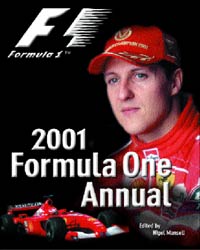 F1 Magazine is launching today in London the official 2001 Formula One Annual, which they promise will be the largest annual F1 book ever published.
The magazine, owned by F1 supremo Bernie Ecclestone, will release the annual today in a special event in London. The book - 648 pages heavy - will be sold as a limited edition collectors' item, with only 50,000 copies printed world wide.
The annual will include, among others, a full review of each race in 2001; an extensive technical review of every race and every car, prepared by Giorgio Piola and John Barnard; profiles, interviews and features covering all the drivers and teams competing in the 2001 season; a complete news recap for the entire year; as well as full statistical tables for all F1 races since 1950 until today.
Among the writers featured in the Annual are Gerald Donaldson, Joe Saward, Eoin Young, Jane Nottage, David Tremayne and Jabby Crombac - the longest running journalist in the F1 paddock, and the only writer to cover Formula One since its very first race in 1950. The annual will include the photography of Rainer Schlegelmilch and Keith Sutton, and is edited by former World Champion Nigel Mansell.
F1 Magazine was launched at the first round of the 2001 season in Australia. The magazine is published monthly by European Press.
Click here for details on the 2001 F1 Annual
Published at 15:18:05 GMT
---