Friday November 16th, 2001
By Alan Baldwin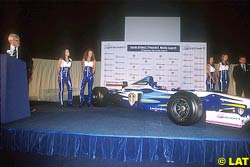 Take an old acquaintance of Formula One supremo Bernie Ecclestone, some of the world's biggest soccer clubs and the thrills of top level motor racing.
Throw them together and what have you got? A license to print money or a failure in the making?
Premier1 Grand Prix organisers say excitement and their new single-seater championship should ensure they get the right answer. The brainchild of British property millionaire and former car salesman Colin Sullivan, the 10-race series aims to kick off in Portugal next July after the soccer World Cup in Korea and Japan is out of the way.
Twenty four of the world's top soccer clubs, each with a Judd V10-powered Reynard car and driver decked out in team colours, will take part.
"Premier1 Grand Prix will have a similar look and feel to Formula One," the promotional material says.
Formula One people, such as McLaren boss Ron Dennis, shake their heads at that idea and see a curious hybrid with limited appeal.
"It is bizarre," said Dennis when asked for his opinion last month. "I don't spend any time thinking about it. I think it will fail, I can't see any reason why it won't fail."
"I don't really see the tie-up to be honest," added Jaguar's Eddie Irvine of the soccer and cars formula. "If Michael Schumacher, all the big names in Formula One, jumped across it would be interesting to see what would happen. But I don't see that happening."
FIA Approval
Premier1 organisers think otherwise and have presented a draft calendar using circuits not currently visited by Formula One but which meet international safety standards.
Four clubs - Portugal's Benfica, England's Leeds United, Feyenoord of the Netherlands and Belgian side Anderlecht - have signed up and more are promised this month. A supplier of tyres, slicks not grooved, has yet to be named and drivers are still being sounded out - including former Formula One champions Nigel Mansell and Damon Hill.
Briton Johnny Herbert is another contender, while Portugal's Pedro Lamy seems a certainty for Benfica. The series was sanctioned last month by the International Automobile Federation (FIA), which now has a purely regulatory role after the settling of a lengthy European Commission antitrust probe into Formula One.
That investigation, which removed certain commercial restrictions put on circuit owners and broadcasters, was a boost to the new championship.
"People said you'll never get FIA approval as long as Bernie is alive," said Premier1 operations director Robin Webb at a media launch in London this week. "Well, he is alive and we got FIA approval."
Webb said the whole idea of Premier1, who will be calling their events Grands Prix as well, now made perfect sense to him after initial doubts.
"(Colin Sullivan) said I'll set up my own championship and everybody laughed, including me," he recalled. "Then he said 'No, I've got an idea to bring football in'. And we still laughed. But two and a half years on we're not laughing.
"Funnily enough, it's quite obvious when you think about it. It's the same audience."
Man Against Man
"We were at Benfica for the launch and that is when the reality came home to me," he added. "The car went on to the pitch at half time and when we pushed the car off, these guys were actually coming up to the car and queuing up to kiss it.
"There is some serious passion out there. The aim is for a cumulative global television audience of one billion people over the first season.
"If you want to set up a championship which is going to compete at the highest level, and the highest level is Formula One, then it is going to take you many billions of pounds and probably 10 years to establish it," said Webb. "We've used football to shortcut the system.
"We're using the very passionate fan base of football, bringing it into a Formula One-style motor race to establish it much quicker."
The teams, limited to one driver each, will be competing for a share of a $1 million prize pot at every race next year. In 2003, the plan is for 15 races, eventually rising to a maximum of 18, with 30 teams ultimately competing and soccer-related entertainments at the circuits as well.
"It's man against man, equal equipment so we'll know who the best driver is," said Webb, who put the first season's outgoing costs - provided by various backers - at just under $180 million.
"We expect to break even in the second year and in the third year we would expect to pay off the debt which will be owing to the investors," he said. "We would probably expect to go public during that period."
Huge Sums
The plan is for two 100-mile or one-hour long races, whichever is the faster, on a Sunday. They will be divided by a 20-minute break, with the winner of each collecting $125,000. Drivers will also be able to switch to spare cars at any point.
If a team fails to finish the first race, it can still enter the second from the back of the grid. Drivers and teams will both be contracted solely to Premier1, with only teams collecting championship points. The drivers will be ranked, as in golf, according to prize money.
"They'll be earning quite huge sums really. A race win will get a quarter of a million dollars," said Webb. "They also get a one third share of all merchandising that carries their name."
Even drivers who fail to finish every race will still get a basic $10,000 per race. For the clubs, even if they never get close to winning a race, a result seems guaranteed with a share of the merchandising spoils and one million dollars for allowing Premier1 to use their name in motorsport for three years.
"The absolute worst-case scenario is that they (the clubs) get a million," said Webb.
Published at 09:41:10 GMT
---