Friday November 16th, 2001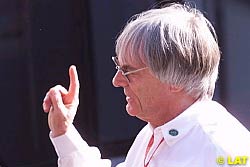 Formula One supremo Bernie Ecclestone has reportedly bought a new house in London for £50 million (pounds).
The purchase is the most expensive for a private home in this country and Ecclestone is believed to have used his bartering skills to bring the price down from the asking price of £85 million (pounds).
The five-storey home is based next door to Kensington Palace in London and boasts a host of luxurious features. The house has eight lavish suites - all with their own bedroom, bathroom, dressing room and sitting room. There is also a large dining room, complete with crystal chandelier, a ballroom and an oak panelled picture gallery.
In contrast, there is a hi-tech room with giant televisions and sound systems and in the basement there is a swimming pool, along with a sauna all surrounded by mosaics.
Published at 10:32:39 GMT
---