Monday December 30th, 2002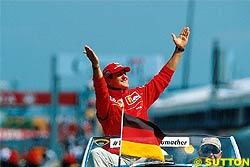 German Formula One champion Michael Schumacher was voted "champion of champions" for 2002 by influential French sport daily l'Equipe today.
Schumacher, who won his fifth world title last season in dominating fashion, emulated Argentine Juan Manuel Fangio, who was the only other driver with five crowns. Schumacher had also been crowned by l'Equipe last year.
Alpine skier Janica Kostelic was second and Brazil's World Cup-winning defender Roberto Carlos third in the poll by a jury of the newspaper's journalists.
Published at 11:06:00 GMT
---