Thursday January 9th, 2003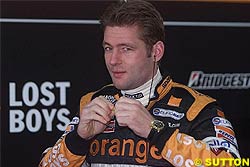 Dutchman Jos Verstappen is expected to be announced later today as a new Minardi driver for the 2003 season after months of speculation regarding his future.
Verstappen became the main candidate to fill the second seat at Minardi after compatriot Christijan Albers ruled himself out of the running despite having the required budget to land the drive alongside Briton Justin Wilson.
Albers had agreed a provisional contract with Minardi owner Paul Stoddart, depending on the driver raising sufficient sponsorship. Albers's official website said that although money had been found, the provisional contract had lapsed at the end of December without agreement, clearing the way for Verstappen.
Trust Computer Products, who has sponsored Verstappen since he raced for the Arrows team, announced today that the company and Verstappen will hold a press conference at 18:00CET in the Trust head office in Dordrecht, near Rotterdam.
The company said "they have a very important announcement to make" and added that Verstappen's new team boss will also be present.
Published at 11:11:07 GMT
---