Sunday March 6th, 2005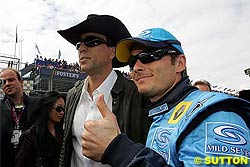 Giancarlo Fisichella was crowned in glory after taking his second career win in the season-opening Australian Grand Prix - when Hollywood star Nicolas Cage presented him with a black wide-brimmed Stetson hat.

Italian Fisichella eased his way to victory in Melbourne after seeing his closest opposition effectively wiped out by a timely rainstorm in first qualifying on Saturday afternoon.

And the Renault driver was awarded a special prize when the star of the car crime movie 'Gone in 60 Seconds' presented him with the elaborate headgear he had been parading on the grid before the race.

Cage was invited to the race as the chief guest and attended the Grand Prix Ball and the race itself with his 21-year-old third wife Alice Kim, who he married after splitting from Lisa Marie Presley last year.
Published at 08:25:03 GMT
---