Friday March 4th, 2005
By Dieter Rencken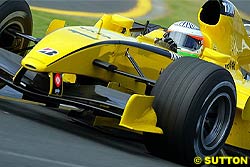 Following this column's snippet during last year's Brazilian Grand Prix weekend that Benson & Hedges intended withdrawing its sponsorship from Jordan after that race, the Silverstone-based squad responded with comments denying the reports.
Despite a Jordan spokesperson being adamant that no such decision had been taken by Gallaghers – owners of the brand – a senior source within the company had made the disclosure to Atlas F1.
Then, when Midland Group acquired the team, the Weekly Grapevine again suggested that B&H would not feature on the car, a similar denial was received, this time from the group's corporate communications consultant in Toronto. Last week a launch of sorts was held in Moscow, and the brand was conspicuous by its absence. Ditto during Friday's practice in Melbourne.
Sure, Gallaghers' Sobranie brand features on the rear wing, but not a single B&H logo was to be seen anywhere close to the cars 18 and 19 despite their yellow hue. And, as smokers can testify, the brands have different packaging, and are aimed at different market segments in different geographical territories.
When BAT's Rothmans brand departed F1 in favour of sister label Winfield no hacks insisted that the former remained in the sport, nor would they suggest that Marlboro has remained with Ferrari should one of Philip Morris' various brands replace it on Michael Schumacher's machine.
* * *
Formula One traditionally sees only winners shaking champagne bottles, so it seems Paul Stoddart was a touch hasty on Friday afternoon. Whilst the stewards were considering the merits of his request to run to 2004 regulations – rejected by them, as it turned out – the chain-smoking Australian was said to have headed for the Albert Park podium with a litre of local bubbly and shaken it vigorously in expectation of victory.
The cork stayed firmly in place after he learned of their ruling against him, and, instead of dousing himself in champagne, Stoddart headed for the inside of the Victoria High Court where he was marginally more successful – the judge granted Minardi an injunction to run in Qualifying 1, with a further hearing to be heard immediately thereafter.
Will the wiry fighter end up popping the cork late on Saturday afternoon?
Published at 08:46:39 GMT
---