Friday March 11th, 2005
By David Cameron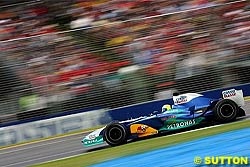 BMW and Sauber
The talk in Melbourne about a potential deal between Peter Sauber and Williams' engine suppliers BMW was that the deal is close but not quite done yet, with the Swiss team boss having also spoken to Toyota to see what the Japanese engine makers can offer them. Sauber is looking for another alternative because he would prefer not to sell the team just yet, while BMW have made it clear that they want to have a major shareholding in a team within the next few years.
Further complicating the deal is the fact that Sauber sponsor Credit Suisse owns 64% of the Swiss team, having purchased the shares from Red Bull boss Dieter Mateschitz a few years ago after a dispute between the Austrian and Peter Sauber over drivers (Sauber wanted to run the then-unknown rookie Kimi Raikkonen; Mateschitz was pushing instead for then-Red Bull backed Enrique Bernoldi).
Credit Suisse are keen to get out of the team-owning business - their thought process is that banks have no place owning equity in Formula One (something Bernie Ecclestone would probably agree with, given his recent problems). With Red Bull pulling their support from Sauber in favour of their own team, Credit Suisse has upped the ante in sponsorship (note the new signage on Sauber's airbox), a situation they are not thrilled with. If BMW want to buy into a team, Credit Suisse could make it happen.
Meanwhile, BMW's current partner Williams are less than thrilled with these developments, but are said to be looking around for a replacement engine supplier, having made initial contact with both Cosworth (suddenly looking like their old selves after David Coulthard's impressive run on the weekend) and the increasingly popular Toyota.
Toyota cannot possibly supply this many teams, especially if they can't push their own team forward. Cosworth, on the other hand, could be an ideal replacement for BMW - the engine maker's new ownership has focused attention within the company on their need to prove their merit in the rocky waters of supply and demand after years of being, as one wag had it, a communist department of works.
Cosworth, close to Red Bull given their former connections as subsidiaries of Ford, needs customers for next year - they are already well down the design road on next year's V8 power plant, but they need a team slightly more impressive than Minardi. With current rumours pairing Red Bull with Honda (for engines only - the team will build their own gearbox and ancillaries) then what odds could you get on a Williams-Cosworth lining up on the grid in the foreseeable future?
The Win that Almost Wasn't
To the delight of most race fans around the world, Giancarlo Fisichella won his second race (and celebrated on the top step for the first time) in Melbourne on the weekend. But what isn't well known is that it almost didn't happen.
Fisichella's son Christopher had been unwell in the week before the race with a stomach malady, but the situation was thought to be under control as dad left for the airport. However, the situation worsened and, after a visit to a gastroenterologist, the poor lad was shipped off to hospital in Rome. When Giancarlo found out he was distraught and, as any parent of young children can sympathise, wanted nothing more than to rush back home.
Renault were supportive - they had third driver Franck Montagny on standby, and were prepared to allow the Italian to rush back to Rome if necessary - but the situation was avoided by a phone call from Fisichella's wife Luna, who phoned to say that, while slightly worrying, the medical staff had the situation well in hand and that he should stay and focus on his day job.
Which he duly did, winning a dominant race before receiving another call to say that wee Christopher was feeling much better.
Red Bull Driver Development
When Red Bull Racing floated the idea of their two junior drivers, Christian Klien and Vitantonio Liuzzi, sharing the second car alongside team leader David Coulthard no one took them too seriously, but it seems that they meant every word they said - the current plan is to alternate the pair every three races, with Tonio stepping up to the race seat in Imola.
Leave aside that consistency is everything in Formula One, as only a cursory glance at perennial winners Ferrari will confirm - in today's brave new (marketing driven) world Red Bull are putting aside the established racing logic and persevering with their own. Liuzzi, a worthy Formula One racer regardless of how it happens, is not thrilled with the idea but will nevertheless make his debut in Italy, 105 kilometres up the road from the hill top city state of San Marino.
An obvious problem with the scheme is that Klien, who had his car to himself last year, has driven in too many races to be placed as the team's third driver (the FIA mandates that third drivers can't have raced more than six times in the top flight over the preceding two years). To this end Red Bull-sponsored drivers Scott Speed and Neel Jani, both running this year in GP2, will be given enough mileage in a forthcoming Formula One test to qualify for a Superlicence, which will allow the team to pick one of them to run as their third driver. Unless they plan to alternate the third drivers too, of course.
Another wrinkle in the idea is that, as things currently stand, Liuzzi will be taking over a car with an engine that was raced two weeks prior by Klien, who will obviously be less than thrilled with handing over the keys. Does a new driver mean a new engine? No one really knows. In Bahrain expect to see Klien being somewhat less than conservative with his engine, and the nattily attired Liuzzi looking for information on how to carry out an engine breaking dance.
While We're on Engines
When Michael Schumacher and Nick Heidfeld discovered that two into one doesn't work on the race track most commentators had Ferrari swapping out their leader's engine for the Malaysian race, as allowed in the new regulations. Malaysia is an incredibly tough race, the reasoning goes, so why not give him every advantage they can?
Meanwhile, back in Europe Ferrari tester Luca Badoer is currently giving the new F2005 its first proper run - he has previously driven the new car back in Italy, but the Jerez test is the first time they have run the new car in temperatures that are close to those expected at most rounds of the Championship this year. If the test goes well - and the team certainly expect that it will - then the thought process is to get the car into a race at the earliest possibility.
While Ferrari announced the '05 challenger will debut in Spain at this year's launch, technical director Ross Brawn has not ruled out the possibility of running it in Bahrain, just two races hence. If the team are able to do this, they will want no impediment to implementation - if Ferrari do switch out Schumacher's engine ahead of Malaysia, he will have to race with it again in Bahrain (reliability allowing, and given that it is Ferrari we can generally rely on their reliability), which would rule him out for the new car.
If, however, Schumacher keeps his Melbourne engine for Malaysia - and given that he motored back to the pits after being pushed out of the gravel there doesn't seem to be any reason why he couldn't - he will then be in line for a new engine in Bahrain, and perhaps a new car too. It's thinking like this that wins championships.
Just Before You Go
It seems that long time Jordan sponsor Benson & Hedges will be back with the team after all - having missed the first round in Melbourne (and, presumably, seeing the remarkably empty looking yellow car) a deal has been struck to allow the cigarette maker to return, at a rumoured cost of just five million dollars.
Because of a detailed and boring dispute with the British government it is assumed that all British domiciled cigarette manufacturers will be unable to sponsor any of the teams from the middle of the year, stopping their on-car signage from the Turkish Grand Prix onwards.
Some of the teams argue that the ban shouldn't encompass Formula One, most notably BAR (co-owned as they are by a cigarette maker), so B&H will gather up the last of their legal sponsorship before they are unable to advertise anywhere at all and, if BAR are able to push the boundaries a bit further then all the better - Jordan will follow in their wake.
Published at 17:26:43 GMT
---