Advice: The points tables for most series covered by Elsewhere In Racing are available here. Individual series are linked to their corresponding points table after each report.
Rally
Finland's Tommi Makinen To Retire At End Of 2003
By Alistair Holloway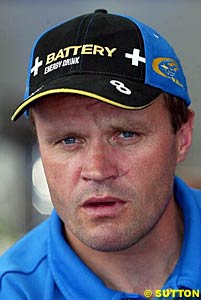 Finland's Tommi Makinen, the only driver to win the World Rally Championship four times in a row, said on Monday that he would retire at the end of the season.
"It has been a long career, I think there is not much more to gain," the 39-year-old said after a news conference. "I am quite happy to have done everything I have done."
Makinen, now with Subaru, won his titles with Mitsubishi from 1996 to 1999. Compatriot and mentor Juha Kankkunen also won four, but not consecutively. Makinen's first world championship rally was with Lancia in 1987 and he has 24 wins to date. He said he would continue to race for fun in events like motorcross.
"He's had an incredibly successful career, even after four world titles he remains highly motivated and fiercely competitive," said Subaru boss David Lapworth. "It's been an absolute pleasure to work with him for the past two seasons.
"In particular, the way that he and (Norway's) Petter (Solberg) work together stands out - theirs is one of the most constructive and successful driver pairings I can remember."
Makinen was quoted in January as saying he wanted to win a fifth title before calling it a day but he is currently eighth overall, 31 points adrift of Peugeot's leader Richard Burns.
Briton Burns has not won a rally this season but has been helped by a new points system that rewards the top eight finishers rather than top six and narrows the points gap between the winner and runner-up.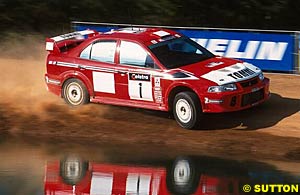 "It is alright. It is more equal over the longer term," Makinen said of the scheme.
But he was concerned by the governing FIA's plans to end the use of 'gravel crews', who test the course before the race to give the drivers the most up-to-date information. Without such crews, drivers will be left with just the notes prepared in the days leading up to the contest.
"We are used to driving with very accurate information for 10 years already and we cannot suddenly mentally change to another way," Makinen said.
Finns have excelled at rallying over the years, and defending champion Marcus Gronholm is currently joint third in the rankings for Peugeot. But the country's drivers this month endured their worst ever showing in the Rally of Finland with no home drivers making the top five.
"At the moment is seems to be only Marcus who is really fast and capable of winning," Makinen said. "We have youngsters coming but it is too early to say where we are with them."
Championship Leader Richard Burns Rejoins Subaru
By Alan Baldwin
Britain's Richard Burns will drive for Subaru next season after signing a two year deal to leave Peugeot for the team that took him to the 2001 World Rally title.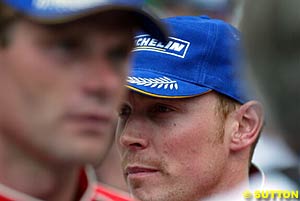 Subaru said on Monday that Burns, 32, who leads the standings with five rounds remaining despite not having won a rally for champions Peugeot, would return with his co-driver Robert Reid. It will be both men's third stint at Subaru. Burns drove for them from 1993 to 1996 and, after three years at Mitsubishi, returned in 1999.
His subsequent move to Peugeot was marked by a contract tug-of-war, with Subaru obtaining a temporary injunction to prevent the Briton testing for the French team before a settlement was reached.
The Briton had agreed to join Peugeot before the season-ending British Rally in which he became the first Englishman to win the title. That success also triggered a clause in his contract giving Subaru the option to retain him.
Burns has been helped this year by a new points system that rewards consistent finishers but he has struggled to come to terms with his car and was outperformed in 2002 by Finnish teammate Marcus Gronholm, who went on to win the second of his two world titles.
"Subaru is the team I've had the most success with and I'm really looking forward to being part of it again," said Burns, who leads the championship by five points from Citroen's Spaniard Carlos Sainz.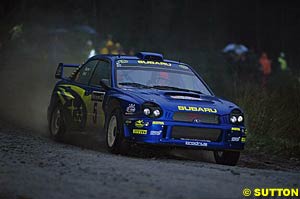 "For the time being, though, I'm putting thoughts of next year to the back of my mind. My focus is the current season, there's still a long way to go, and I'll continue to push 100 per cent for the 2003 title."
Burns's signing coincided with the announcement that Finland's four-times champion Tommi Makinen, who replaced him at Subaru in 2002, will retire at the end of the year. "I'm very excited about having Richard back on board at Subaru," said team boss David Lapworth.
"He's enjoyed a great deal of success, not to mention the 2001 world title with us, and with four seasons with the Impreza under his belt, he's sure to adapt quickly to the latest car.
"Richard and (Norwegian) Petter (Solberg) are two of the most exciting drivers out there and with both of them driving for Subaru I believe our line-up for 2004 is second to none."
Reports provided by Reuters
MotoGP
Rossi Edges Gibernau In Czech GP Thriller
By Martin Dokoupil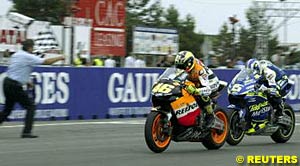 Italian Valentino Rossi edged Spaniard Sete Gibernau on the last lap of a thrilling Czech Grand Prix on Sunday - turning the tables after a bitter defeat in the previous race in Germany.
The 24-year-old world champion overtook Gibernau on one of the last corners of the 3.36 mile (5 km) Masaryk Motor Ring to take the chequered flag and stretch his lead in the standings to 34 points after four races without a win.
"I made a mistake with two laps to go trying to widen a little gap ahead of Sete but I went wide and Sete took the lead. I told myself not this time and I pushed very hard but he made a mistake on the last lap so I could come back," Rossi said.
Rossi, on a Honda, narrowly won the home straight sprint, finishing just 0.042 seconds ahead of the hard pressing Gibernau. Ducati-riding Troy Bayliss came home third repeating his Sachsenring finish.
"Everybody was riding at 100 percent. Every time it was possible, everyone overtook everyone so we made mistakes, we were sliding but it was fantastic from the bike, very, very big fun," a grinning Rossi told the post-race news conference.
Starting on pole position, Rossi fought a tough early battle with Australian Bayliss, who stormed his powerful Ducati machine from the second row to claim the lead.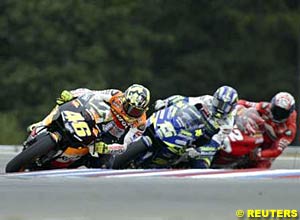 "I think Troy did a great job, he was leading for a long time and he was pushing very hard. Then Valentino and Max (Biaggi) and myself began pushing hard and at a certain point Valentino sneaked into the lead so I went behind him and from then we went at 100 percent," Gibernau said.
Bayliss kept Rossi at bay for the opening 11 laps, but the flying Italian eventually squared off his Australian rival with a breathtaking overtaking manoeuvre. However, Rossi gave up his lead on the 13th lap to fellow Honda rider Gibernau, slipping to fourth two laps later after he went too wide following a brave attempt to pass.
But Rossi managed to reclaim the lead on the 16th lap, waging a wheel-to-wheel fight with Gibernau, setting a new lap record of one minute 59.769 seconds and a new speed record of 300.5 kph in the process.
Rossi, who was forced out of last year's race due to mechanical problems, had broken the lap record in Saturday's qualifying session, registering one minute 58.769 seconds. Last year's winner Biaggi, who has won seven times at Brno including four successive 250cc races from 1994 to 1997, finished a disappointing fifth, 8.729 seconds behind his arch-rival Rossi.
Result of World Motorcycle Championship, Round 10 of 16, Brno, Czech Republic:

Pos  Rider                 Motorcycle
 1.  Valentino Rossi       Honda RC211V
 2.  Sete Gibernau         Honda RC211V
 3.  Troy Bayliss          Ducati Desmosedici
 4.  Carlos Checa          Yamaha YZR-M1
 5.  Max Biaggi            Honda RC211V
 6.  Nicky Hayden          Honda RC211V
 7.  Alex Barros           Yamaha YZR-M1
 8.  Tohru Ukawa           Honda RC211V
 9.  Makoto Tamada         Honda RC211V
10.  Marco Melandri        Yamaha YZR-M1

Standings: Valentino Rossi 212, Sete Gibernau 178, Max Biaggi 141, Loris Capirossi 97, Troy Bayliss 96, Carlos Checa 78, Tohru Ukawa 74, Alex Barros 71, Nicky Hayden 67, Shinya Nakano 65 etc.
Kawasaki Sign Hofmann For 2004 MotoGP Season
German Alex Hofmann will ride for Kawasaki in MotoGP next season, the team said on Saturday.
"The discussions have been long but I am happy to be able to finally confirm the fact that Alex Hofmann will be riding full time for the Kawasaki Racing Team in 2004," team manager Harald Eckl said.
The 23 year old, who joined Kawasaki as a test rider at the end of last year, has impressed with some strong performances this season as a wildcard, including tenth place at the rain-hit Dutch Grand Prix in June.
Reports provided by Reuters
NASCAR
Newman's Number Five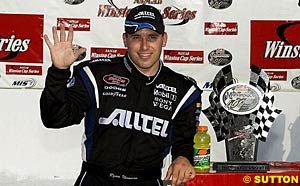 Ryan Newman's visit to Michigan earlier this year went up in smoke. So did his visit this time, but it was from victory donuts rather than an engine fire, as Newman took his fifth win of the season on the weekend. There were several less happy stories, including Jimmie Johnson's good run ending two laps short on fuel, as fuel economy ruined a Hendrick driver's race for the second week in succession, Johnson dropping from fourth to 27th. Meanwhile good fuel economy saw Kurt Busch almost make it to the finish from the second last caution, over 60 laps before the end, though he didn't quite make it, running out on the last lap finishing the race in eighteenth place, having been in the lead with three laps to go.
Meanwhile the days of championship contenders Dale Earnhardt Jr and Jeff Gordon were terrible, Earnhardt Jr's day ruined after a pit collision not of his making, finishing 32nd, while an early flat tyre and a problem with the kill swich saw Gordon trapped a lap down early on and never able to get back on the lead lap, finishing 30th. This was good news for Matt Kenseth who scored another top ten, taking home ninth place as he once again opened his lead over the competition, now 329 point over Earnhardt Jr.
Bobby Labonte and Ryan Newman were on the front row, as Jeff Gordon sat in pit lane before eventually taking to the track, a problem with the mandatory kill switch being the cause of the delay on taking to the track. When the raced did begin, Newman swept past Labonte into the lead, the duo making a break as the rest of the top ten shuffled positions. Eventually, Jimmie Johnson, who had been fighting in that pack, made a break and closed in on the leading duo, taking second from Labonte on lap 15 just before the first caution of the day on lap 17 after a flat front right tyre sent Jamie McMurray into the turn three wall. The field pitted, most taking two tyres, Labonte leading Johnson, Kevin Harvick, Newman and Robby Gordon out of pit lane.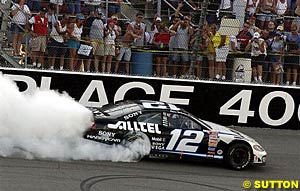 The race restarted on lap 20, Johnson taking the lead back two laps later, Harvick taking second from Labonte a lap later as Labonte faded down the order as Newman, Robby Gordon and Terry Labonte moved into third, fourth and fifth. Tony Stewart was also on the way up. Lap 41 saw Jeff Gordon slow down temporarily before returning to race pace after the kill switch played up again. Up at the front Harvick took the lead from Harvick on lap 44, as Stewart moved into third past Newman four laps later. Contact between Ricky Rudd and Elliott Sadler, and a flat tyre for Jeff Gordon forced all three to make early pit stops, which was bad timing for all concerned as a caution for debris followed on lap 55, catching all three drivers a lap down.
Everyone except Jeff Gordon pitted, Harvick leading Stewart, Robby Gordon, Terry Labonte and Greg Biffle as the field restarted on lap 59. By not pitting, Jeff Gordon was on the tail end of the lead lap, but Harvick put him back down a lap straight after the restart, while a slow stop had dropped Johnson from second to eleventh. Terry Labonte was moving up, taking second on lap 61, Newman moving to third on lap 63 as Stewart dropped a couple of places just as a fiery crash between Kenny Wallace and Todd Bodine brought out the next caution on lap 64, Bodine forced up the track in front of Wallace after Kurt Busch and Bodine bumped in the middle of the turn. The leaders stayed out as Johnson led a group of drivers to pit lane.
Back to green on lap 72, Harvick leading Labonte, Newman, Stewart and Gordon, Robby taking fourth from Stewart a lap later with Newman taking second from Terry Labonte on lap 75. But it was back to caution again on lap 78 after Ricky Craven hit the turn two wall, and then clipped Casey Mears who was trying to avoid Craven's damaged car, sending Mears into the wall as well. Some of the field headed to the pits, though Rusty Wallace decided to stay on track after beginning down the pit entry. As he turned right to head back on the track, he drove straight in front of Dale Earnhardt Jr, badly damaging the front of Earnhardt Jr's car. After running near last early in the race, Earnhardt Jr was in the top ten. By the end of the caution, both Wallace and Earnhardt Jr were no longer on the lead lap, both forced to make repairs to their cars.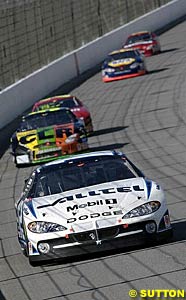 Newman stayed out and led Johnson, Ward Burton, Jason Leffler and Busch at the restart on lap 83, Newman and Johnson making a break but the race was back under caution again on lap 90 when debris from a deflated left front tyre on Earnhardt Jr's repaired car littered the track, most of the field pitting. Johnson and Busch were the new top two as the race restarted on lap 96, Harvick coming up and joining them at the front before fading a little. The next caution came out on lap 106 after a virtual flashback to the earlier Michigan event. Just like teammate Ryan Newman in June, Rusty Wallace's engine and car turned into a rolling fireball, Wallace escaping unharmed.
Most of the field made pit stops at this point, with a variety of tyre strategies coming into play - some drivers taking none, others two and some going for a full compliment of four, shuffling the pack. Some drivers chose to stay out, Greg Biffle, Ken Schrader, Elliott Sadler, Jeff Green and Joe Nemechek those who did and now led the field at the restart on lap 114. Biffle made a break at the front as other drivers made their way through the traffic back to the front, Johnson up to second on lap 119, Harvick third three laps later, Busch and Newman slotting into fourth and fifth on lap 124 with Stewart also moving up the order.
Meanwhile Johnson had continued to push forward and closed in on Biffle before taking the lead from him on lap 128, Stewart taking fourth from Newman just before the caution came out on lap 135 for debris. The field headed for the pits once again, most drivers taking four tyres as they hoped to make it their last stop or last stop plus a late splash of fuel, but Harvick and Robby Gordon went for two and took over the top two spots, Johnson, Biffle and Newman completing the top five. The race restarted on lap 139 but was back under caution once again on lap 142 when Bobby Labonte's engine went up in a cloud of smoke. A few cars pitted in the middle of the caution, including second placed Robby Gordon and Matt Kenseth, hopeful to make it the rest of the way without stopping again. This seemed like a bad move, as he was now at the back of the order.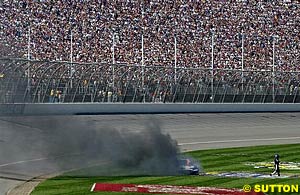 But with one lap to go before the restart most of the field headed to pit road, having waited as late as they could before making their final stop. Most of them took fuel only except Harvick and Johnson who took tyres as well. A few stayed out, and amongst other, they filled the top five of Jimmy Spencer, Kurt Busch, Dale Jarrett, Sterling Marlin and Bill Elliott as the race restarted on lap 150. Kurt Busch took the lead a lap later however, followed one lap later by Jarrett moving into second then the lead after Busch ran wide after trying to lap Jeff Gordon. Further back cars were three and four wide as fast cars and drivers tried to race back to the front of the field.
Lap 157 saw Busch retake the lead from Jarrett, while lap 165 saw Marlin take third from Spencer, the top five now Busch, Jarrett, Marlin, Spencer and Elliott, though most if not all of these drivers need to make another stop for fuel, though Busch's crew said he could make it to the end despite stopping over 60 laps before the 200 lap finish. Lap 184 saw Marlin and Spencer peel off to pit lane, Marlin taking two tyres and fuel while Spencer went with fuel only. Elliott pitted two laps later for fuel and two tyres, while two laps further on Jarrett came in for a splash of fuel.
Now the top five was Busch, Newman, Harvick, Johnson and Stewart, though the top two were still wondering if they could make it even though Newman pitted at the last caution, not the one earlier that Busch had. Over the closing laps Busch's lead began to decrease as he slowed his pace to conserve more fuel, and with three to go he was on Busch's bumper, taking the lead at the end of the lap as Jimmie Johnson headed down pit lane, out of fuel. As they came to one to go Busch discovered he had tried to stretch it too far, and headed down pit lane to take a splash of fuel. Meanwhile Newman discovered he had enough fuel after all, going on to take the win from Harvick, Stewart, Biffle and a great finish for Steve Park in fifth place.
Result of NASCAR Winston Cup, Round 23 of 36, Michigan International Speedway, Michigan, United States :

Pos  Driver                Car
 1.  Ryan Newman           Dodge Intrepid
 2.  Kevin Harvick         Chevrolet Monte Carlo
 3.  Tony Stewart          Chevrolet Monte Carlo
 4.  Greg Biffle           Ford Taurus
 5.  Steve Park            Chevrolet Monte Carlo
 6.  Robby Gordon          Chevrolet Monte Carlo
 7.  Michael Waltrip       Chevrolet Monte Carlo
 8.  Ken Schrader          Dodge Intrepid
 9.  Matt Kenseth          Ford Taurus
10.  Johnny Benson         Pontiac Grand Prix

Standings: Matt Kenseth 3432, Dale Earnhardt Jr 3103, Jeff Gordon 2971, Kevin Harvick 2953, Michael Waltrip 2923, Jimmie Johnson 2908, Bobby Labonte 2825, Ryan Newman 2816, Kurt Busch 2810, Robby Gordon 2777 etc.
NASCAR Suspend Spencer After Run-In With Busch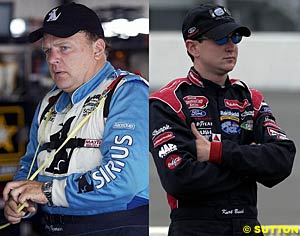 Jimmy Spencer has been suspended from all NASCAR-sanctioned competition on Monday until August 26 for his part in a altercation at the Michigan International Speedway at the weekend.
Spencer was also fined $25,000 and placed on probation through the end of the year as a result of punching Kurt Busch in an incident in the garage after the Michigan 400. Busch was also placed on probation until December 31 by NASCAR officials. Spencer may still face criminal charges as Lenawee County (Michigan) Sheriff Larry Richardson said investigators would not turn over their report to prosecutors until at least Tuesday.
The two drivers have had a long-running feud. The latest disagreement came on Sunday when the two made contact late in the race when Busch attempted to pass Spencer.
According to witnesses, Spencer pulled into Busch's garage after the race and hit his car from behind. He then jumped from his car and punched Busch in the face.
NASCAR rarely suspends its drivers, although crew chiefs have been suspended several times in the past for rules violations.
Spencer report provided by Reuters
V8 Supercar
Ambrose Annihilation!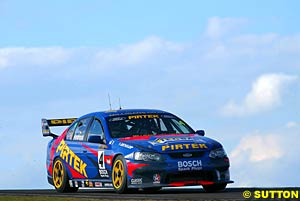 Another V8 Supercar round, and another Ford victory, now up to seven in succession, a feat not achieved by the marque since 1993. Marcos Ambrose returned to the top of the podium, taking his fifth win of the season, ending a streak of four consecutive wins for Mark Skaife at the circuit, taking a dominant win ahead of fellow Ford runner Craig Lowndes. Although only able to finish third, Mark Skaife's day was better than some of the other contenders for the title, Steven Richards beset by alternator failure again while Jason Bright's day started badly and finished even worse, down in nineteenth place. Paul Morris and Russell Ingall also looked set for good days but an early penalty and late flat tyre ruined Morris's day, while an early flat tyre made Ingall's harder than it could have been.
This was good news to Ambrose though, who has finally taken the lead in the title chase from Jason Bright, who drops to second ahead of Murphy, Ingall and Skaife, Ambrose also leading the dropped point score table. Meanwhile Oran Park saw the debut of KMart Racing's first VY, Greg Murphy taking the driving duties, though due to the dispute with TEGA the team are still unable to test and so arrived at the track with a completely untried car, while Jason Bargwanna debuted Larkham Motorsport's first BA due to his higher championship standings compared to teammate and team owner Mark Larkham.
Once again we saw the 300 km race format featuring strongly this season, with a compulsory stop for tyres and a compulsory stop for fuel. Marcos Ambrose was on pole with Greg Murphy in his brand new VY Commodore alongside, with Paul Morris a superb third again with Mark Skaife down in fourth, while series leader Jason Bright started 18th. At the start Ambrose held on to the lead as Morris made a great start and jumped up to second, looking for a way past Ambrose for several corners before settling into second ahead of Murphy, Skaife dropping to fifth before taking fourth place back from Russell Ingall.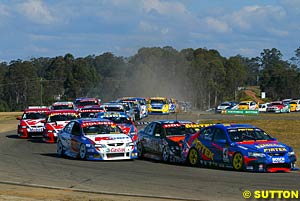 As the field completed lap one Ambrose was already beginning to clear away, Morris the only one in touch, as Murphy came under attack from Skaife. Further round lap two Skaife made the pass on Murphy, quickly followed by Ingall as the lack of testing of Murphy's new car began to show through. Meanwhile it was at this point that news came through of a drivethrough penalty for Morris, for an 'alleged' jump start, though looking at the start in detail didn't seem to make things any clearer as to what he did wrong. Nevertheless, Morris took his penalty on lap four, dropping him from second to 27th. Lap four was also bad for Russell Ingall, a flat left rear tyre forcing him to pit and change tyres, dropping to last place. The good news was he had completed his compulsory pit stop, the bad news was it was lap 4 of 111...
Lap five and there was more drama, as Steven Richards dived inside Simon Wills into turn three, only succeeding in turning him around 90 degrees and stationary right in front of him. As they resumed forward motion, the field scattered, cars three wide into the sharp turn four and five. Jason Bright ran wide on the inside and pushed Simon Wills into Rick Kelly, spinning Kelly across the front of Wills into the side of Bright and then into Paul Radisich, ending Wills and Radisich's days, Kelly losing several laps making repairs while Bright was forced to pit at the end of the lap, though at least he was able to continue almost unimpeded, though over a lap down. Up front Ambrose was continuing to waltz away by an average of three-quarters a second per lap, with the two HRT cars in Skaife and Todd Kelly completing the top three.
Meanwhile Murphy's car was continuing to drop down the order, Garth Tander taking fourth from Murphy on lap nine, and fifth to upward mover Lowndes on lap 12, up from tenth on the grid, and sixth to Jason Richards on lap 15 and continued to struggle as the laps went by. Lap 20 and Skaife, already nearly 15 seconds behind Ambrose in second place, was forced to pit early after badly locking the front left tyre, putting him onto a similar though not quite as extreme strategy as Ingall and moving teammate Kelly into second as the rest of the front runners stayed on track, waiting until later to make their stops. Tander was third, Lowndes fourth and Jason Richards fifth.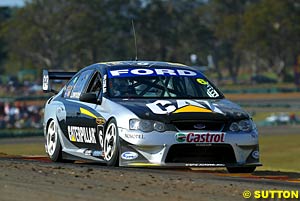 After coming up onto the tail of teammate Ingall to think about lapping him, Ambrose pitted on lap 33 for tyres, Murphy doing the same a lap later. Such was Ambrose's dominance that he rejoined the race in sixth and was fifth after Murphy's stop, despite most of the field not having made a pit stop yet. This moved Kelly into the lead as Lowndes moved into second until Lowndes made his tyre stop on lap 39 and Jason Richards did the same a lap later, Tander the new second place holder until he was first passed by the flying Ambrose and then pitted on lap 46, the same lap leader Kelly headed for pitlane as both took on fuel.
This returned Ambrose to the lead with a twenty five second gap over Skaife, followed by Lowndes, Ingall and Kelly, as the majority of the field had been lapped by the blistering pace of Ambrose. Drivers began to make their second stops around this point just short of half distance, Skaife and Murphy taking fuel on lap 51, Kelly tyres on lap 52, Ambrose fuel on lap 53, Tander tyres on lap 54 as Lowndes and Jason Richards filled the top two places, Lowndes and Richards still to take on fuel while Ambrose was in third, all stops made. Bright's less than great day got a little worse when he ran wide at turn two just after his second stop, allowing Morris to get up the inside. Unfortunately Morris began to run wide too, and ended up spinning Bright, who lost several places while Morris got away almost unscathed.
Lap 65 and Jason Richards pitted for fuel, leaving Lowndes the lone frontrunner yet to pit, though he was still leading and lapping a few hundredths faster than Ambrose. Finally, on lap 72, Lowndes made his stop, returning Ambrose to the lead from Lowndes by about 25 seconds again, followed by Skaife ahead of teammate Kelly with Richards next followed by Tander. Steven Richards's bad day got worse when he was forced to pit on lap 72 after a reoccurrance of the alternator failure he suffered at the previous rounds. Meanwhile Kelly was on the move and closed in on teammate Skaife who was suffering for having to pit early, Kelly taking third place only to lock up his front left into turn two on the following lap, forcing him to pit for another left front, and dropping him back from third to eighth, one lap down.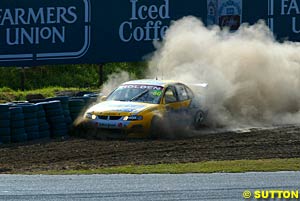 By this point in the race only the top five of Ambrose, Lowndes, Skaife, Tander and Jason Richards were still on the lead lap, big gaps between the first four but less than five seconds between Tander and Richards as the race format had sorted the good from the bad, and there was a lot of bad. Bright's bad day got even worse when he went off over the flip-flop and ploughed though the gravel, collecting an airdam full of gravel, depositing it around the track as he braked during the next lap. However, having pitted a little earlier for a third time on lap 75, he didn't lose a place - the only problem was he was 20th...
In scenes reminiscent of 2002, John Bowe's rear bumper was dangling loose, and was probably about to be forced to pit to remove it when it fell off, just like 2002! Unfortunately, it came to rest just off the racing line, bringing out the safety car and erasing the most of the 30 second advantage Ambrose had over Lowndes, as well as other gaps throughout the field. The safety car was only on track for two laps, Murphy pitting at this time, dropping from seventh to sixteenth, as the race resumed on lap 91. With a lap over the rest of the field, the top five were in a race of their own. Paul Weel provided some action when he overcooked it into turn eight on lap 93 and spun, dropping from thirteenth to nineteenth. The same turn was the scene of some more action on lap 97 when Dean Canto tapped Paul Morris out the way, Morris losing two places as Canto snuck through and Bowe passed them both.
While this was all happening Ambrose once again stretched open a gap as the other four lead lap runners tried hard to catch each other but none of them were quite able to do so. And so it stayed to the flag, Ambrose taking a comfortable win from Lowndes, Skaife, Tander and Jason Richards. Just when it seemed it was over, Paul Morris's day got a little bit worse, his front left tyre deflating just as he began his final lap. He started it in eleventh, but never finished it, and by being classified as a non-finisher ended up being classified in 25th position, behind cars who received the chequered flag but had completed in some cases 20 or more laps less than him. Meanwhile Murphy's late race charge saw him finish in eleventh place.
Result of V8 Supercar Championship Series, Round 8 of 13, Oran Park, Australia:

Pos  Driver                Car
 1.  Marcos Ambrose        Ford Falcon BA
 2.  Craig Lowndes         Ford Falcon BA
 3.  Mark Skaife           Holden Commodore VY
 4.  Garth Tander          Holden Commodore VY
 5.  Jason Richards        Holden Commodore VY
 6.  Todd Kelly            Holden Commodore VY
 7.  John Bowe             Ford Falcon BA
 8.  Russell Ingall        Ford Falcon BA
 9   Cameron McConville    Holden Commodore VX
10.  Dean Canto            Ford Falcon BA

Standings: Marcos Ambrose 1351, Jason Bright 1279, Greg Murphy 1233, Russell Ingall 1163, Mark Skaife 1145, Paul Weel 1109, Craig Lowndes 1094, Steven Richards 1052, Garth Tander 1002, Rick Kelly 952 etc.
Standings (after worst round dropped): Marcos Ambrose 1255, Jason Bright 1195, Greg Murphy 1119, Mark Skaife 1109, Russell Ingall 1081, Steven Richards 1052, Craig Lowndes 1036, Paul Weel 1007, Garth Tander 966, Todd Kelly 914 etc.
V8 Supercar points distribution
Formula 3
CK1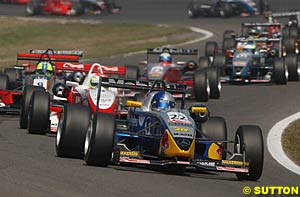 Christian Klien upset all predictions for the 2003 Marlboro Masters, the unofficial Formula 3 World Cup at Zandvoort. The Austrian Euro Series midfielder had to work hard staving off Brit F3 front runner Nelson Piquet Junior and Euro Series points leader Ryan Briscoe.
Klien started from the front row of the grid in his Dallara-Mercedes alongside polesitter Piquet in the Dallara-Mugen run by his famous father. Klien outjumped Piquet to Tarzan and would lead the Brazilian throughout the race. Piquet's attacks on Klien were blunted by having to keep an eye on Briscoe. Briscoe closed on Piquet with three laps to go but was unable to make the pass. With Briscoe fading Piquet had one last shot at Klien but ran out of laps.
Nicolas Lapierre raced in for a lonely fourth position while Klien's teammate Markus Winkelhock pushed hard all race to no avail in trying to take the lead Carlin Motorsport Dallara-Mugen of Jamie Green. Similarly Olivier Pla had to defend seventh position from runaway British series leader Alan van der Merwe. Alexander Prement took ninth place while Fabio Carbone won a battle with Ronnie Bremer for tenth position.
Euro Series frontrunner Timo Glock had a miserable weekend finishing 30th, two positions ahead of Carlin's Brit F3 frontrunner Richard Antinucci. An unwell Nico Rosberg was eliminated in the heats.
Results of 2003 Marlboro Formula 3 Masters; Zandvoort, The Netherlands

Pos  Driver               Car
 1.  Christian Klien      Mucke Motorsport Dallara F303 Mercedes
 2.  Nelson Piquet Jr     Piquet Sports Dallara F303 Mugen-Honda
 3.  Ryan Briscoe         Prema Powerteam Dallara F303 Opel Spiess
 4.  Nicolas Lapierre     Signature Plus Dallara F303 Renault Sodemo
 5.  Jamie Green          Carlin Motorsport Dallara F303 Mugen-Honda
 6.  Markus Winkelhock    Mucke Motorsport Dallara F303 Mercedes
 7.  Olivier Pla          ASM F3 Dallara F303 Mercedes
 8.  Alan van der Merwe   Carlin Motorsport Dallara F303 Mugen-Honda
 9.  Alexandre Premat     ASM F3 Dallara F303 Mercedes
10.  Fabio Carbone        Signature Plus Dallara F303 Renault Sodemo

DTM
Audi's Aiello Breaks MB Stranglehold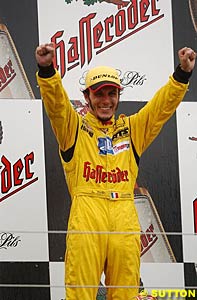 Six times this year the three pointed star has stood atop the podium in the Deutsche Tourenwagen Masters. The series return to the Nurburgring brought an end to that, with the reigning champion stamping his authority on the Eifel circuit.
The signs were good for Audi to return early with Mattias Ekstrom shaded to provisional pole by Bernd Schneider by a hundredth of a second. Superpole was held under lights on Saturday night with third car out Christijan Albers the first to set a low 1:25, with next car Peter Dumbreck scarcely slower. Aiello cut over a tenth from the time. Second last out, Ekstrom scorched around the European Grand Prix venue in 1:25.095. Schneider had no answer and would start sixth behind the two Audis, Albers, Martin Tomcyzk and Dumbreck's Opel.
Ekstrom jumped best but Aiello got the run down into the first corner best to lead Ekstrom, Albers, Tomczyk, Schneider and the rest with Alain Menu having a diabolical start, while mid pack Christian Abt spun his Audi. With Aiello looking menacing upfront, Ekstrom dived pitward at the first opportunity, taking Albers and the battling duo of Marcel Fassler and Dumbreck with him. Dumbreck would have to stop twice when officials on the speed gun pinged him for speeding. He had a spin to recover from first though, and so the championship's leading Opel Astra would not be a contender today. A lap later Aiello surrendered his lead to Bernd Schneider as he pitted with Schneider pitting the AMG Merc next lap around.
With Gary Paffett pitting last on lap twelve, the order had settled with Aiello leading from Albers, who had taken Ekstrom during the pit stop cycle, Schneider, Fassler, Jean Alesi and Manuel Reuter in the first Opel. Tomczyk was gone, the car dead in pitlane. Abt would join his stablemate within two laps.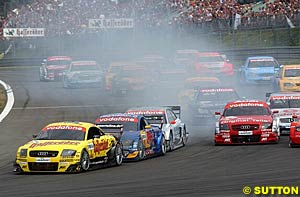 Schneider was moving up, battling then passing Ekstrom to force his way onto the podium on lap 15. Four laps later the sixth placed Alesi would start the second pit stop cycle with Aiello and Ekstrom pitting bang on half distance. Schneider was in next lap and resumed in behind Aiello and Albers. It took seven laps for Schneider to catch and pass Albers, as the Dutchman wasn't going to surrender his series lead, retaking second. Further back a collision eliminated Jereon Bleekemolen with Stefan Mucke given a warning from the officials.
With the laps winding down the battling Mercedes pilots got no closer to Aiello, who cruised to victory, his and Audi's first for the year. Albers held out Schneider to the line. Fourth was Ekstrom's reward with the Mercedes of Fassler and Alesi next. Scheider was top Opel while gaining his debut point was disposed Formula 3000 driver Gary Paffett.
Albers edges to within a single point of Schneider. With Fassler now ten points adrift in third it's starting to look like a race in three. Aiello is 17 points behind but his form from Nurburgring has the leading Mercedes drivers concerned. The top Opel, Dumbreck, is 23 points behind and effectively out of the running.
Result of Deutsche Tourenwagen Masters, Round 7 of 10, Nurburgring, Germany:

Pos  Driver               Car
 1.  Laurent Aiello      Audi TT-R
 2.  Christijan Albers   Mercedes-Benz CLK-DTM
 3.  Bernd Schneider     Mercedes-Benz CLK-DTM
 4.  Mattias Ekstrom     Audi TT-R
 5.  Marcel Fassler      Mercedes-Benz CLK-DTM
 6.  Jean Alesi          Mercedes-Benz CLK-DTM
 7.  Timo Scheider       Opel Astra V8 Coupe
 8.  Gary Paffett        Mercedes-Benz CLK-DTM
 9.  Alain Menu          Opel Astra V8 Coupe
10.  Peter Dumbreck      Opel Astra V8 Coupe

Standings: Bernd Schneider 49, Christijan Albers 48, Marcel Fassler 38, Laurent Aiello 32, Mattias Ekstrom and Jean Alesi 28, Peter Dumbreck 26, Timo Scheider 10, Alain Menu 7, Christian Abt 3 etc.
IRL
Hornish Wins Kentucky At Record Speed
Defending series champion Sam Hornish Jr. won his first race of the year with victory in the Kentucky 300 Indy Racing League race from pole position on Sunday. It was the ninth IRL win of Hornish's career at a speed of 198.897mph, an Indy Racing League record.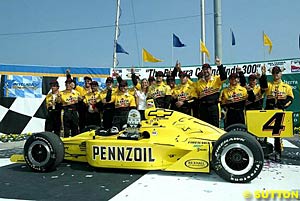 New Zealand's Scott Dixon was second, 1.17 seconds behind, in a Dallara-Toyota and Bryan Herta was third in a Dallara-Honda 14 seconds further behind. They were the only drivers on the lead lap in a race slowed by just one caution, for ten laps, another series record. Before the caution, Hornish in a Dallara-Chevrolet had lapped all the drivers but Dixon.
The only time the 2001 and 2002 series champion did not lead was when he had to pit for fuel and tyres.
"We had a real good run today everything panned out the way we needed it to," Hornish said. "I was hoping we'd have a green flag run all the way.
"My team worked so hard this year. I'm so happy for these guys to get a win and get started on trying to get back into the championship points standings," he said, referring to his failure to take a checkered flag.
Brazil's Tony Kanaan, who finished sixth in Kentucky, leads the series standings with 385 points. Compatriot Helio Castroneves, who was fifth, has 377 points, Dixon 373, and Brazil's Gil de Ferran 372. With four races remaining, Hornish is mathematically in the hunt for a hat-trick of titles with 308 points in fifth place.
Result of Indy Racing League, Round 12 of 16, Kentucky Speedway, Kentucky, United States:

Pos  Driver              Team
 1.  Sam Hornish Jr      Panther Racing Dallara-Chevrolet
 2.  Scott Dixon         Chip Ganassi Racing GForce-Toyota    
 3.  Bryan Herta         Andretti Green Racing Dallara-Honda 
 4.  Al Unser Jr         Kelley Racing Dallara-Toyota    
 5.  Helio Castroneves   Team Penske Dallara-Toyota
 6.  Tony Kanaan         Andretti Green Racing Dallara-Honda
 7.  Robbie Buhl         Dreyer & Reinbold Dallara-Chevrolet   
 8.  Dan Wheldon         Andretti Green Racing Dallara-Honda
 9.  Gil de Ferran       Team Penske Dallara-Toyota 
10.  Tomas Scheckter     Chip Ganassi Racing GForce-Toyota    

Standings: Tony Kanaan 385, Helio Castroneves 377, Scott Dixon 373, Gil de Ferran 372, Sam Hornish Jr 308, Al Unser Jr 291, Kenny Brack 279, Tomas Scheckter 266, Scott Sharp 262, Tora Takagi 241 etc.
Report provided by Reuters
CART
CART Considering Buyout Offer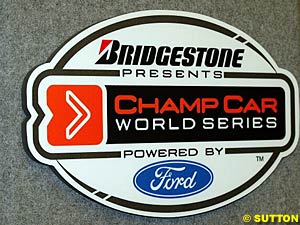 The embattled U.S.-based CART series said on Monday it had received a buyout offer from a group of investors that included several team bosses. Championship Auto Racing Teams Inc said in a statement that Open Wheel Racing Series, a holding company, had offered to buy its outstanding stock for 50 cents per share.
"Although CART has declined to sign the letter of intent, it is engaged in negotiations regarding a possible transaction," said the statement issued by chief financial officer Thomas L. Carter.
Those involved in Open Wheel Racing include existing CART team owners Jerry Forsythe (Players Forsythe Racing), Kevin Kalkhoven - Craig Pollock's partner in PK Racing - and Paul Gentilozzi (Rocketsports). Carl Russo of the RuSports Team, racing in the Toyota Atlantic Series, and Motorock LLC were also part of the group.
CART stock, which first traded at $20 a share in 1998 and hit a high of more than $30 in 1999, closed at $1.83 on Friday on the New York Stock Exchange. CART said last week that it believed it had sufficient funding for the rest of the season but not into 2004, as earlier planned, and would have to borrow to keep the series alive.
Report provided by Reuters
Upcoming Events Calendar
August 23 - International Formula 3000 Championship, Round 9 of 10; Hungaroring, Hungary
August 23 - NASCAR Winston Cup, Round 24 of 36; Bristol International Speedway, Tennessee, United States
August 24 - Champ Car World Series, Round 14 of 19; Montreal, Canada
August 24 - Indy Racing League, Round 13 of 16; Nazareth Speedway, Pennsylvania, United States
August 24 - British Formula 3 Championship, Rounds 19 & 20 of 24; Spa-Francorchamps, Belgium
August 24 - American Le Mans Series, Round 6 of 9; Road America, Wisconsin, United States
August 25 - British Touring Car Championship, Round 8 of 10; Brands Hatch, United Kingdom
August 29 - European Rally Championship, Co-efficient 20 Event; ELPA Rally, Greece
August 31 - Champ Car World Series, Round 14 of 19; Denver Street Circuit, Colorado, United States
August 31 - NASCAR Winston Cup, Round 25 of 36; Darlington International Raceway, South Carolina, United States
August 31 - All-Japan Formula Nippon Championship, Round 7 of 10; Fuji, Japan
September 3 - World Rally Championship, Round 10 of 14; Rally Australia
September 5 - African Rally Championship, Round 5 of 6; Uganda Rally
September 6 - NASCAR Winston Cup, Round 26 of 36; Richmond International Raceway, Virginia, United States
September 7 - Indy Racing League, Round 14 of 16; ChicagoLand Speedway, Illinois, United States
September 7 - World Motorcycle Championship, Round 11 of 16; Estoril, Portugal
September 7 - European Formula 3 Championship, Rounds 7 of 10; A-1 Ring, Austria
September 7 - British Formula 3 Championship, Rounds 21 & 22 of 24; Donington Park, United Kingdom
September 7 - Deutsche Tourenwagen Masters, Round 8 of 10; A-1 Ring, Austria
September 7 - European Touring Car Championship, Round 6 of 9; Anderstorp, Sweden
September 7 - American Le Mans Series, Round 7 of 9; Laguna Seca, California, United States
September 7 - World Superbike Championship, Round 10 of 12; Assen, The Netherlands
September 7 - FIA-GT Championship, Round 6 of 9; Anderstorp, Sweden
September 7 - British Touring Car Championship, Round 9 of 10; Donington Park, United Kingdom
September 7 - European Formula 3000 Championship, Round 7 of 10; Nurburgring, Germany