---
Giancarlo Fisichella: Through the Visor
---
By Giancarlo Fisichella, Italy
Atlas F1 Special Columnist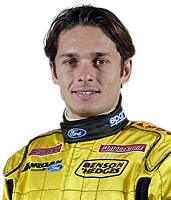 Despite a disappointing end to his German Grand Prix weekend, Giancarlo Fisichella was encouraged by the improved performance of his Jordan at the Hockenheim circuit, and now the Italian driver is looking forward to the Hungarian Grand Prix. In between the races, however, he enjoyed the summer break and had time to have some fun. Read all about it, through Fisico's visor...

I just can't wait to climb back into the cockpit of my EJ13 in a couple of days time to start our preparations for the Hungarian Grand Prix. Our Summer break has left me feeling really great and I know it will have been a welcome holiday for my Jordan Ford Team. However, back at the Jordan factory and at Cosworth, as well as the Bridgestone factory, they have all been working flat-out to develop the best package for me to challenge for Championship points during the final four Grands Prix of the season. For sure these last four races will be tough, but having a break just helps to give each one of us in the race team an opportunity to get refreshed and ready for a final effort to find our competitive form again. Hopefully with a lot of hard work and a little bit of good fortune we will find that competitive edge again.
As we enter the final stags of the World Championship, it's great for everyone that the Championship is still wide open, but it has been a tough season for us since my Grand Prix victory in Brazil. That was a fantastic moment and we must not forget that although we have suffered with reliability problems this season, Jordan Ford has the distinction of being one of only four Grand Prix teams currently competing in the World Championship that have won Grands Prix. Hopefully we will soon be in a position to fight for points again, perhaps not this weekend; we will just have to see what progress we can make on Friday and Saturday. For sure it would be great to match last year's results: fifth in qualifying and sixth in the race, but we will have to wait until after second qualifying to get a clearer picture.
* * *
Watching some of the TV footage from the German Grand Prix weekend, besides the unusually high temperatures it's hard for anyone other than a Formula One fan who can appreciate what effects G-forces can have on a driver's performance, and consequently the reason why overall fitness is so important. Since my first full season in Formula One and my first year with Jordan (1997), I have really stepped up my training programme to the level of a finely tuned athlete. Once you have attained that level of fitness the feeling of well-being is so great that you never want to lose it and, since that season I have always been one of the fittest drivers on the grid. The downside of that has been that I have been criticised for not appearing to exert myself during a race - but this is purely down to my driving style and my level of fitness. Without doubt it helped me to compete without any physical problems during the German Grand Prix.
Meanwhile we were struggling during the Friday sessions to find a good balance, the car felt quite nervous and I was struggling to set a reasonable time. And, while the temperature increased during the day so our grip decreased, it was difficult. But after evaluating all the data from that day's testing and practice sessions with my race engineer, we decided to make some changes to the rear suspension. Those changes together with Bridgestone's latest hard compound tyre and Cosworth's new step engine helped me find a good balance, which enabled me to push hard throughout my qualifying slot. It was a clean lap without any mistakes. It's a fantastic feeling when you can balance your car on the limit throughout a lap and, although I thought we might have crept into the top ten, I honestly knew that 12th place was the best we could have achieved that day. Once again we were the top Bridgestone runners after the Ferraris. It left me feeling quite hopeful for the race and a points finish.
The race turned out to be an entirely different challenge - the sort of challenge we would rather not have to fight. Besides trying to get the best start of a Grand Prix I have been very mindful of the mixed starting grids this season, consequently the ever present threat of first corner incidents. Admittedly sometimes you can be an innocent victim but on other occasions you have to be ready to take whatever evasive action is necessary to get clear of trouble. Starting from my 12th slot I was able to avoid the violent accidents ahead of me.
Those of us who had escaped unscathed took up station behind the Safety Car for the next three laps while the marshals cleared the track of debris. During this time my EJ13 developed an electronic fault which caused the traction control system to come in constantly. Then I had problems with selecting gears. During my first pitstop the team worked hard to try and solve the problems but unfortunately it continued throughout the race. With track temperatures around 46 to 54 degrees I was struggling to find any grip, a situation that remained until the final stages of the race. But hey, At least I was battling until the final few laps of the race unlike several others, including my teammate Ralph, whose race ended before the first corner. So at least we were able to gather some valuable information which the team will be using to help them improve our package.
Ford's new step engine was certainly an improvement, it was just unfortunate that a water leak during the final laps caused it to overheat and I had to retire. Bridgestone's newest tyre construction was also an improvement and using their hard compound I was able to maximise the conditions during my qualifying session on the Saturday. However the consistently high temperatures on race day worked to our disadvantage so although the next race is Hungary is often held in similar conditions, I would of course prefer some unusual weather and a little rain.
* * *
Which reminds me, when I was watching a news bulletin the other night showing scenes of flash flooding in France I was reminded of the unbelievable scenes which greeted us last year when we visited Hungary. The walls surrounding the beautiful city of Budapest only just managed to prevent the raging Danube from flooding the historic city. After the high temperatures this summer, it's hard to think that much of Northern Europe was engulfed in floods this time last year.
Once again Jordan Ford will be making the headlines at the Hungaroring when our test driver Zsolt Baumgartner becomes the first Hungarian Grand Prix driver to test a current Formula One car, a Jordan Ford on Friday. OK, so he drove a couple of demonstration laps for Jordan last year, but this year he will be on track as our test driver and hopefully providing us with some more useful information on tyre evaluation just as he did at Hockenheim. The first practice and test sessions are tricky as the track is quite green and until a number of cars go out and lay some rubber down, and clear the dusty surface, grip will be hard to find. Because of its tight and twisty layout, I have said the Hungaroring is more like a 'toboga' (kart track) than a Grand Prix track, with little chance of overtaking. But hopefully this will have changed with the new track layout (newly profiled Turn 1 and new corner at Turn 12) to give us better overtaking opportunities. Although it is the slowest track after Monaco, because of the track layout and the high temperatures which are usual for this time of year, it is a very demanding race for both drivers and cars.
* * *
Fortunately I am feeling great after spending some fantastic days with my family on our boat around Poltu Quatu, near Olbia and then around Sicily - it's a really beautiful part of the world. I am delighted to say that both Carlotta and Christopher enjoy the boat almost as much as Luna and I do. In between having fun days messing about with the family I continued to do some serious training: the usual running but for a change of routine I made the most of training in water sports. Not only do I love my jet ski but it's also a great training vehicle - an XP SeeDoo competition model capable of 60 knots so it's great for strengthening the arms and upper body and, great fun!
I also had a great time helping our Grand Prix Drivers' team win our last charity football match just before the German Grand Prix. We were playing in front of a 20,000 crowd in the Karl Benz Stadium in Mannheim. I scored a goal in the first half and although I made a few more strikes the goal-keeper managed to block my attempts - Michael (Schumacher) who once again led our team to victory (9-6) was another goal scorer along with Olivier (Panis).
For this weekend I am looking forward to our team dinner one evening and another one with our sponsors Benson & Hedges. They are always good events and it's great to be able to spend some time away from the intensity that surrounds a Grand Prix weekend with them. For sure we have a tough battle ahead this weekend, but we are all feeling revitalised and ready to give it our best shot!
Ciao a tutti!




Giancarlo Fisichella's column is written exclusively for Atlas F1 by Fisichella himself, with the assistance of friend and freelance journalist Georgie Shaw.
Fisichella's official website can be found at http://www.giancarlofisichella.it.

---
© 1995-2005 Kaizar.Com, Inc. . This service is provided under the Atlas F1
terms and conditions
.
Please
Contact Us
for permission to republish this or any other material from Atlas F1.