New A3 Bypasses Pleasure for Quality
Audi invented the premium sports hatch sector with the A3 but it's no secret the old model had fallen way behind newcomers like the BMW Compact and Mercedes-Benz C-Class Sports Coupe. Now Audi has fought back with an all-new A3 that aims to restore customer loyalty.
It is strong resale values that dominate this market - the old A3 was worth between 50-60% of its initial value after three years and 36,000 miles. This is an astonishingly high figure that helps to justify a screamingly high price tag - something that is shared by the BMW and Mercedes too. It will be interesting to see how Saab prices its 9-2 entrant when it arrives next year. If you're after one of these cars, you might want to consider a PCP scheme in which the high list price is offset by slow depreciation as you are effectively only paying for depreciation and interest.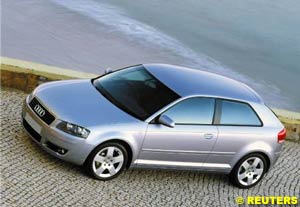 So what exactly is a premium hatch? They aren't any sportier than their saloon equivalents and they're smaller and less practical. But they are cheaper to buy and still carry that all-important badge prestige. Mainstream hatches are more practical and the performance versions are frequently more fun to drive - but they just don't have the badge.
Spoilt for Choice
The new A3 is a much better, more credible car than the original. The new car takes an evolutionary approach - there's nothing radical here, as it's based on the next MkV Golf due here in 2004. Indeed this is the first car to use the new Golf platform and it definitely feels like a premium model.
Four engines are available in the A3 at the outset - two petrols and two diesels. We suspect the 1.6 will prove under-powered, but the 2.0 FSI petrol uses a variation on common-rail technology first seen on diesels, which improves both performance and economy. The diesel choices are the long established 1.9 TDi 105PS and a new-generation 2.0 TDi which is the test car that we drove. A tub-thumping 3.2 V6 quattro arrives in November.
The 2.0 TDi certainly continues Audi's excellent reputation for diesels. It is more refined than the older 1.9 TDi, and feels very sporty indeed - much more so than the distinctly average performance figures suggest. Being incredibly torquey, pulling power is available from well below 2000rpm. As it spins up the rev band so quickly, it does beg the question as to why a six-speed gearbox is needed as you change gear too often. Better to stay in a high gear and let the torque do its stuff. Excellent fuel economy results.
A bewildering array of transmissions is available. A five-speed manual is standard with the 1.6 and the 1.9 TDI, while both 2.0-litre engines are fitted with a six-speed. A tiptronic shift is optional on the petrol engines, while a direct shift gearbox (DSG) can be fitted to the 3.2 V6 and 2.0 TDI. Phew.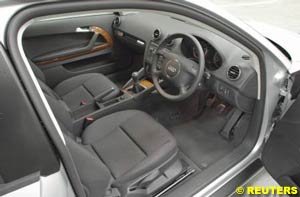 A quick word on the DSG. This ?automatic' is being hailed as the most important gearbox innovation for years. It uses a double clutch system so that at any one time one clutch is engaging the gear you are using, whilst the other clutch has the next gear it predicts you will use ready and waiting for you. This cuts down dramatically on time lag between gear shifts and works superbly.
The Sport model we drove has sports suspension, which does a supple and subtle job of combining comfort and ride quality. But that's the job of the standard suspension: a sports set-up should feel sporty. The Sport just doesn't feel sporty enough. In typical Audi fashion, it just ain't that much fun, and a lot of the blame for this must be carried by the steering which, although direct, provides a feeling of detachment from the car.
Practically Speaking
Don't expect the A3 to be a byword for practicality. The boot will fit your weekly food shop in and there's much more room in the rear of this three-door hatch. But if a useful family car is what you want, you'd be better off with a saloon or a mainstream hatch. What you gain with the badge, you lose with the wallet and space. At least you get a solid build, classy interior and plenty of comfort for your cash.
When it comes down to it, there are a lot of cheaper, faster more enjoyable and more practical cars out there. Better equipped too - the A3 isn't exactly stripped down but I'd want electrically adjustable seating, for instance, for my £19,000. But you will make much of your money back after three years of comfortable, quality driving in a car that many people will admire. How much is that worth to you?
Written by Ian Sumner

Desire for the Streetka
Kylie wiggled her bottom all over one and now you can too. Ford's high-profile launch for the Streetka, featuring Kylie Minogue driving on to the stage in one during her last world tour, seems to have paid dividends. Everyone seems to want to buy a Streetka at the moment and women make up 80 percent of all Streetka buyers.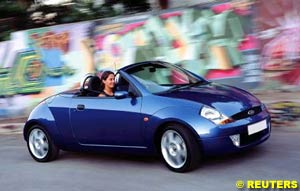 Girlie it may be, but the Streetka has a gloves-off streetfight on its hands to keep hold of its popularity. A whole phalanx of new competitors is suddenly champing at its heels and the Streetka must prove itself against some equally in-demand newcomers such as the VW Beetle Convertible, Citroen C3 Pluriel and Smart Roadster.
The good news for Ford is that the Streetka is the best small convertible you can buy. It looks funky, drives sharply, is reasonably practical and is a genuine bargain. Nothing else really comes close.
Hatchback DNA
Anyone who has driven a Ka hatchback will tell you what a cracking little car it is to drive. Wisely Ford has elected to keep quite a lot of the Ka's DNA in the Streetka but its engineers have worked hard to extract even more fun from a car that's already acknowledged to be the best-driving city car around.
Ford has built on the Ka's legendary handling magic. With any convertible you are going to get some scuttle shake - which is the enemy of good handling in drop-tops - but in the Streetka it is little more than the occasional tremor.
Steering responses are better than any other similar car at this price level. It feels chunky and offers plenty of feedback about what is happening at the wheels. Going around corners, it is as grippy as chewing gum. That's not to say that you can't get it moving about, though. And when you do, the Streetka is controllable and entertaining in the extreme.
Heavy Animal
If the Streetka has a fault, it's that - at 61kg over the tonne - it is a pretty heavy animal. That definitely slows it up. Although the 94bhp 1.6-litre engine (shared with the lighter and more agile Sportka 'warm' hatch) is eager and sounds suitably buzzy, it isn't pokey enough to give the Streetka a truly sporty drive. Combined with a fairly leisurely choice of gear ratios (only a manual transmission is offered), it turns out to be less a street hustler and more a street sweeper.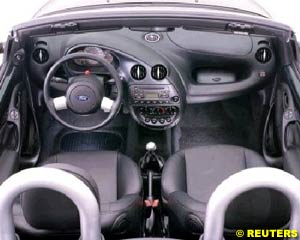 It looks the part too. If you like the ordinary Ka, you'll like the Street version. Different headlamps distinguish it from the hatchback Ka and the rear view looks chunky and stylish too. Roll-over hoops look like something from a 1960s racing car, while the centre-exit 'exhaust' is actually a neat reversing light.
As for the soft-top, it is as simple to get off as a front-release bra. Not for Ford the warranty-denting motors of an electric roof or the expense of a folding metal hardtop. This is a good, old-fashioned, cloth, hand-operated soft-top. Pingup the rear cover by hand and you simply pull the soft-top up and clip it to the screen surround. The rear of the hood clamps down by simple pressure - no bolts or ugly holes in sight. It's a brilliant system. The only downside is that, hood down, there are some unsightly bits of exposed metal around.
Standard Leather
Inside, the cabin is slightly disappointing. It looks pretty much like any other Ka and feels a little bit cheap. That even applies to the Streetka Luxury version I tested, with its standard leather seats. Of course there are no rear seats but the spin-off is more boot space than you have any right to expect in a convertible.
As I just mentioned, there are two versions on sale. The standard Streetka (£12,495) gets twin airbags, electric windows, aluminium gear knob, leather steering wheel and CD player. The Streetka Luxury I drove (£13,745) adds on heated leather seats, height adjustable passenger seat and air conditioning. Metallic paint costs an extra £300.
Ford is selling 80% of these cars to women but anyone is guaranteed to have a bundle of fun in a Streetka.