---
The Weekly Grapevine
---
By Tom Keeble, England
Atlas F1 Columnist
This week's Grapevine brings you
information fresh from the paddock on:

Not So Hot and Bothered
Silly Season Update

Not So Hot and Bothered
One of the many things everyone expects Hungary is going to be, is hot. Air temperatures are predicted to close on 30 degrees, with the track temperatures even higher. Whilst this is clearly a huge factor for the tyre situation, it also plays havoc with the cooling systems, which will be working overtime.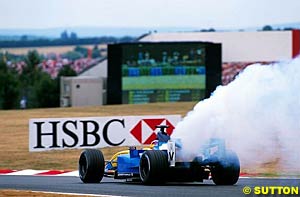 Both Ferrari and Renault have been making much of their cooling systems as they head to the race, confident that they are going to be in a position to take advantage over their rivals - and each has an approach that makes sense in their particular set-up.
Ferrari have featured the 'shark gill' vents along the sidepods of their car at a number of circuits this season. These slots, along with larger cooling chimneys, are expected to provide sufficient extra cooling without making large holes in the sidepods. Air moving over the gills draws more air through, aiding the cooling process: a useful touch at a relatively low speed circuit. The drag penalty from this approach is surprisingly low, too. This is a key factor for getting on terms with Williams in Hungary: the Grove outfit are expected to require some considerable cooling for their powerful engine, which will carry a choice between cutting big holes in the bodywork to cool the unit, or turning down the power to avoid overheating. Should Bridgestone supply a competitive tyre, efficient cooling should be the turning point for Ferrari.
Renault are looking to mix it at the front, too, and their approach also uses an engine cooling advantage - as they turn the wide angle engine design to their advantage. Surprisingly, one of the advantages of the wide-V appears to be a layout that offers more efficient cooling. Furthermore, having a lower maximum rev limit (and horsepower) than the competition means less heat is generated in the first place. If the revised aero package lives up to expectations, than Renault believe they have a package that will give McLaren a run for their money in Hungary.
In the tight margin world of Formula One, getting the cooling equation wrong tends to lead to engines giving up in spectacular fashion. Given the traditionally difficult nature of overtaking at the Hungaroring, it offers the fans a potential distraction from procession.

Silly Season Update
Following a couple of weeks away from the track, there has been plenty of time and space for Formula One's most popular off-track pastime to gather some momentum: guessing who will be going where or doing what in forthcoming seasons.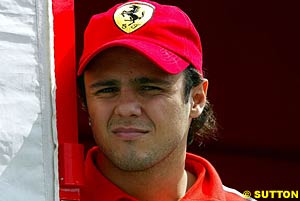 At Ferrari, the continued delay in signing Rubens Barrichello beyond 2004 sees plenty of speculation about who could fill the second seat at the team. Felipe Massa is the leading favourite for the post, after a season demonstrating his pace in the test team. However, whilst undoubtedly quick, the driver is lacking in race experience, so there are some question marks over what route he would take. If Ferrari have the courage of their convictions, they will find Barrichello a seat elsewhere - probably Sauber - for next season, and run Massa alongside Michael Schumacher so that he can learn from the master. However, the revised format of the series is counting against him: in this day and age, what matters most is points finishes. Teams are actually better off running a decent driver who always brings the car home than a blazing talent who only finishes half his races; accordingly, persuading Sauber to take Massa on for another season of mixing it in the mid-field might be a better way for Ferrari to score Championship points, whilst the youngster practices staying on the circuit.
Looking down the grid, Giancarlo Fisichella, the only Italian in the running, continues to do too little with his Jordan to land the front running seat, whilst the brightest sparks of the younger generation, Kimi Raikkonen, Mark Webber and Fernando Alonso, are locked with long-term contracts. Juan Pablo Montoya remains resolutely unavailable, and Schumacher is not prepared to race his brother, ruling him out of contention. Of course, if Barrichello maintains his recent return to form, he is doing no harm to his chances of retaining the seat, making all the speculation academic.
Williams driver movements have featured large of late, driven by hints that Ralf Schumacher has signed a two-year extension - denied by Williams - allegedly accepting a reduced salary by up to fifty percent in return for leeway in going after personal sponsorship. Whether or not that is true, the German is expected to require greater personal freedom to spend more time with his family. Toyota's apparent interest has not been mentioned for some time, and the alternatives are limited: of the established teams, only McLaren represents a potential 'good' move, though if Renault continue their improving form, they could be a good option for 2005. Appearing to have a deal with Williams already lined up will make negotiating for a good salary elsewhere easier, should a move take place, but it makes more sense as a tool for pressuring Montoya in to closing a deal of his own.
Montoya is supposed to have signed a letter of intent - if not a contract - for a move to McLaren in 2005, at the end of his current agreement. Whilst entirely possible, committing to a contract with McLaren at this stage seems unlikely, as there is no way of predicting what any car will be like in two seasons, or what Williams will be prepared to do to keep him on board. The team's apparent dissatisfaction with Montoya's performances earlier in this season have been blown out of proportion: he is very well liked for being a real racer, even if there are times he might have benefited from a more tactical approach to racing, and these were spelled out; his results improved. Montoya believed Schumacher was receiving more resource than he was, so they responded by bringing an old hand on board to strengthen his engineering team. Whilst they will always be resistant to stumping up on salary, anything that might improve their driver's speed will be welcome.
The mid-field is also looking static, with Renault and Toyota confirming their drivers for at least another year, and Mark Webber is set to stay with Jaguar for a couple more years. Justin Wilson is hoping to emulate Webber, and expects to be confirmed for next season if he does anything to write home about at the next race. Should he fail, McLaren's Alexander Wurz is favourite for the role - they already know he will fit the chassis.
Jordan and Sauber are courting politics in their new hires, with the Irish outfit promising Nick Heidfeld a berth (presumably at Giancarlo Fisichella's expense) if they can have Mercedes engines, whilst Sauber could be asked to place either Barrichello or Massa for Ferrari. Heinz-Harald Frentzen is also out of contract, but seems likely to retain his seat and lend experience if Massa comes on board, or the team hire new blood. He can expect to be dropped if Barrichello comes over.
BAR's forthcoming tests for Townsend Bell and Bjorn Wirdheim have not been lost on Jacques Villeneuve. Whilst the Canadian is struggling to agree terms with David Richards, Jenson Button has been confirmed, and there are two established test drivers keen to step in to his seat. Anthony Davidson is quick and tried, whilst Takuma Sato is Japanese and favoured by Honda - he is even fast, if prone to coming off the track. Villeneuve's problems are compounded by Richards talking to British American Tobacco about how much they are prepared to spend next year to keep him on board. It seems, keeping the ex-World Champion is going to cost BAT his salary, plus a large additional contribution to make up for his low turnout to sponsor events, in addition to a planned sponsorship payment - and in excess of what Honda are offering to see Sato race. At least it means BAR are looking at a solid budget for next year.
---
© 1995-2005 Kaizar.Com, Inc. . This service is provided under the Atlas F1
terms and conditions
.
Please
Contact Us
for permission to republish this or any other material from Atlas F1.