The F1 Driver Manager

Jonathan Palmer, a fully qualified medical doctor in his native Britain, vindicated his move from medicine to motorsports by winning the British Formula 3 championship in 1982 and the European Formula 2 crown the following year. His Formula One career started at RAM in 1984, followed by two years at Zakspeed and three at Tyrrell (where he took the Jim Clark trophy for best placed non-turbo car) before moving into a testing role at McLaren. Palmer partnered Murray Walker in the BBC commentary booth for two seasons before establishing Formula Palmer Audi, and ambitious junior racing series which brought a young Justin Wilson to his attention. Palmer has guided Wilson's career through Formula 3000, where he won the championship in 2001, Formula Nissan and into Formula One, where he debuted this year with Minardi before moving to the Jaguar team.

The value of Formula 3000 could hardly be lost on Jonathan Palmer – he won the series as a driver when it was still known as Formula Two, and he guided Justin Wilson into the series, originally as a prize for winning Palmer's own Audi-powered series before picking up some sponsorship to allow the driver to compete, and claim, the title in 2001.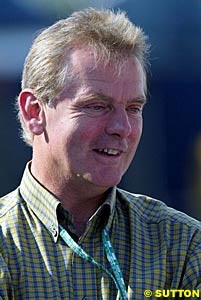 "I think it's a pretty good proving ground," Palmer notes. "It's obviously a spec formula - you've got a spec chassis, spec engines, spec tyres - clearly the team makes a difference, and that's something the driver can influence in terms of contributing to the engineering of the car.
"But I think the other thing that can be seen is that winning the championship is obviously no passport into Formula One; it's a combination of things, but getting some money together is an important part of it. Usually getting some money together to come to a Formula One team is very important. But I think Formula 3000 is still the best formula to try and prove yourself in, to try and get into Formula One."
The reasons why F3000 is traditionally seen as a proving ground for Formula One (which currently has thirteen drivers who have competed in the series or its Japanese equivalent Formula Nippon) are many, but Palmer see it thus: "I think the strengths are that it's a spec formula with spec engine, tyres and cars, it's pretty well controlled, and I think an important part is that the races do take place in front of Formula One at the Grand Prix weekends. Most Formula One people have a little bit of a passing interest to see what's going on, and can tell you the two or three top people running in it, if not more than that, but that's often enough. So those two things are the most important in terms of it being a value to drivers as a means to get to Formula One.
"Of course the weakness is cost, and clearly the grids are pretty small these days and I'm sure that cost is a big factor in that. I think as a driver proving ground that's probably the only weakness – the cost of doing it."
The problem with bringing costs down is that there is no clear way of doing it – nobody wants the costs to be as high as they are (reputedly 850,000 euro a season per driver), and if there was an easy way to bring them down it would have been done already. Palmer ponder the question before continuing: "I haven't run a Formula 3000 team, so I don't know precisely where the money goes, but obviously one element of costs is the travel and accommodation following the Grand Prix circuit. But I don't think there's much you can do about that – supporting the Grand Prix probably justifies the costs that it incurs being part of the Formula One package.
"I think things like engines are fairly expensive in the overall scheme of it – I think they have 450hp and I understand teams are spending around 120,000 UK pounds a season for that amount of horsepower, and that's an area where costs could come down substantially with a different engine deal. And probably there are a number of other ways you could bring the costs down. I suppose one of the key things it could benefit from is a title sponsor, and for there to be value for a title sponsor it needs better television coverage – if you had better TV coverage you've got a better chance of bringing in a title sponsor to put in some significant money. There's not one simple way of driving costs down - you've got to do it a number of ways.
"But you've really got to make it more appealing to sponsors. At the moment Formula 3000 is like most motor racing outside of Formula One, it's not really financially viable, and the benefits of sponsorship don't come anywhere near the cost of doing it - it's massively more expensive - or that the benefits of sponsorship and the value of the sponsorship doesn't come anywhere near the cost of running the cars, and that's a fundamental problem that Formula 3000 and a lot of motor racing has. Therefore it relies on drivers who can bring along some funding out of philanthropy, good will, support for the driver, rather than because it's financially viable.
"The biggest thing obviously is TV. If Formula 3000 could get a better TV package it could encourage more sponsorship, and if it's truly going to thrive in the harder financial times; Formula 3000 is no more expensive than it was three or four years ago. When Justin first did it there were 39, 40 cars – 42 actually, I think – but then there was more money about, and there's not now. But then it's affecting a lot of motorsports, so we're in a bit of a dip in popularity of grids on all sorts of things." And this dip is affecting all categories – there are after all only ten teams remaining in Formula One.
The above notwithstanding, Palmer still believes Formula 3000 is the right path to follow for a driver trying to get into Formula One, although he can see how that may not always be so. "I think it is still the formula of choice, but if the grids keep going down at the rate they are it'll be more questionable - you need to be beating a fairly big field for it to be meaningful, and it's down to sixteen cars now. It wouldn't get any less before it starts to seriously undermine the credibility of winning it. But I think for all that, it still has a reputation; I'm sure a driver given the choice would rather go to Formula 3000 than Nissan Dallara or Super Renault.
"You do have other formulae, but I think beyond that the most important moves that anyone could make - be it teams, the FIA, potential sponsors or anybody else - is to drive the costs down. The thing that's really going to make these formulae, that's going to affect their importance as a feeder into Formula One, is going to be getting good grids so that the teams are going to be more interested in any formula if it provides a better indication of driver talent, and one of the key things you've got to do for that is have a big field. And if you've only twelve or fourteen cars in it, it's not looking particularly strong as a differentiator of driver talent. So I think the primary issue is an increase in the grids, and the most important thing to increase the grids is to drive the costs down."
Much of it depends on the actions of the FIA, the governing body of the series, and what direction they want to take to ensure its survival. If the FIA came knocking on Palmer's door for suggestions, here is what he would say: "I think what I would do is discuss with some teams exactly where the costs are, and I'd aim to keep the costs of competing down to about 250,000 UK pounds, and I think if you could do that then that's the most important thing.
"I hear talk about 650hp V10s, and it all sounds very exciting - it sounds great, but I think when you have more power you drive up the costs, so unless someone was picking up the costs of the engines or contributing, I'm not sure that'll be very helpful. But if a manufacturer became involved that'd be good. But again it's not going to be cheap - when you think that at the moment it's 120,000 UK pounds for 470hp whereas in Formula One for 850hp it's fifteen, twenty million dollars shall we say, on that basis it looks very cheap.
"I think perhaps the reality is nobody's really cracked the challenge to make junior single seater racing, that is under Formula One, actually stand on its own two feet commercially."
---
© 1995-2005 Kaizar.Com, Inc. . This service is provided under the Atlas F1
terms and conditions
.
Please
Contact Us
for permission to republish this or any other material from Atlas F1.