Monday April 2nd, 2001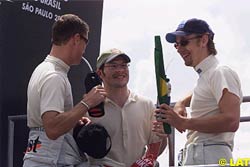 Button Aiming to be Mr Muscle
Jenson Button has endured a tough start to the season after his switch from Williams to Benetton, but he has admitted that he is enjoying himself with the team, despite the tough physical regime he must go through between races. "I love going to the gym, I really do," said Button.
"I'm actually as busy as hell and I am in the car a lot but that is a good thing too. I am doing a lot of physical work. I think Benetton are one of the best in this." Button revealed that he is expected to attend another training camp in Lanzarote, as he did in pre-season when he was put through his paces by ex-marine Bernie Shrosbree.
Button has one aim as he joked: "Four days before Barcelona we are going for four days in Lanzarote again. My pecs are browner than Jacques Villeneuve's! I am in good shape and it is fun and I am enjoying it."

Italian Media Scramble
The Italian media did not have a good day on Sunday as not only were their top team Ferrari defeated for the first time this season, but they were tricked by an April Fool's Day joke. The previous day, Ferrari issued a press release to the Italian media stating that Rubens Barrichello would be replaced by motorbike star Max Biaggi after the Brazilian Grand Prix. The result was several reporters dashing round on Sunday trying to warn their editors not to run the story.

Joker Eddie Enjoys his Birthday
Jovial team chief Eddie Jordan could not resist a prank over the weekend to celebrate his 53rd birthday and April Fool's Day at the same time. Before receiving a cake in the Jordan team's pit garage, Jordan issued a press statement saying that the team were setting up a new base in Jordan's native Ireland. The statement included quotes from Eddie and had several TV stations lining up outside the garage for that all important interview.

Burti Defends Interlagos
Luciano Burti defended the under-fire Interlagos track before his enforced retirement from the Brazilian Grand Prix. Burti, who himself is under pressure to retain his seat at Jaguar, slated the Silverstone circuit in Britain as he defended his home track. "Racing in Brazil and Sao Paolo is wonderful. People might be afraid to come to Brazil, but this is just the image.
"All races have their bad side. The traffic at Silverstone is worse than at Interlagos because it is hell to get in there. I think the Brazilian Grand Prix is above average." Burti retired with engine problems 30 laps into Sunday's race.

Sauber Make the Most of Ferrari Link
Sauber's technical director Willy Rampf highlighted the advantages of a link with reigning world champions Ferrari after watching his team's young driver Nick Heidfeld claim third place in Sunday's Brazilian Grand Prix. Sauber use re-badged Ferrari engines and Rampf revealed after the race that they had learned from the Italian team and that helped their tyre decisions on Sunday.
"We learned from Malaysia where Michael Schumacher chose the intermediates," said Rampf after Heidfeld chose intermediates when the rain fell in Brazil. "We knew they were good and that Nick would be able to finish the race on them without stopping again."
---