Wednesday April 4th, 2001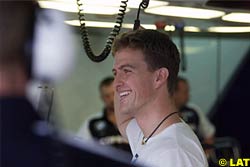 Williams driver Ralf Schumacher has no great desire to return to Eddie Jordan's Formula One team, even though the Irishman gave him his Grand Prix debut four years ago.
The German fell out with Jordan when he was ordered to let his then team mate and number one driver Damon Hill win the 1998 Belgian Grand Prix - the team's maiden victory - even though Schumacher felt the race was his for the taking.
The two have now patched up their differences but Schumacher said on Tuesday: "I like him as a person, but I am not too sure if I would want to work for him again under different circumstances.
"When he stands behind you, he can be a great supporter. He gave me the opportunity to join Formula One and he gave me a good start and it is just a shame we couldn't develop it further.
"At the beginning of '98 we had a pretty difficult relationship because he knew how to push you or put you under pressure.
"Then we had the period when I tried to get away because it was clear he didn't want me there and wanted me to go.
"At Spa I got the message not to overtake at the time and from a team point of view it was the right decision, especially in the conditions. But I didn't like it.
"It didn't surprise me, though, because I was leaving the team and I had begun a fighting period with Eddie."
---