Wednesday April 4th, 2001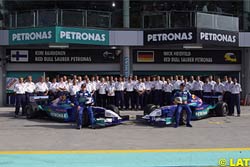 According to reports in an Australian motorcycling magazine, the Sauber Formula One team will unveil a new Grand Prix motorcycle this weekend in Japan.
The Swiss team, who recently equalled their best ever position in Formula One by finishing third at the Brazilian Grand Prix, is thought to be set to enter the motorcyling world championship in 2002 with their own bike.
According to Australian Motor Cycle News, Sauber will join Honda, Yamaha and Suzuki in the premier category, the 500cc class, in 2002 and their first racer will be unveiled at the first event of the 2001 season in Japan next weekend.
New rules in 2002 will allow four-stroke engines up to 990cc to compete against the common 500cc bikes currently used by most competitors in the series, and Sauber is rumoured to be building a three cylinder engine which would incorporate Formula One technology.
Red Bull, one of Sauber's main sponsors, also backs the Red Bull Yamaha team in the Moto Grand Prix championship.
---