Thursday April 5th, 2001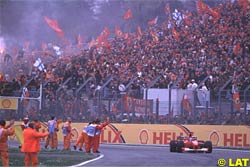 The forthcoming San Marino Grand Prix, scheduled for next week, has already aroused the wrath of the bishop of Imola due to its clash with Easter Sunday.
Gianfranco Tomassoli, representing Imola circuit organisers Sagis, declared that everything possible would be done to appease the local church, which had criticised the decision to hold the race at Easter.
"We will hold a mass in the morning of the race with the parish priest of Maranello, don Alberto Bernardoni. It will be broadcasted on the giant video-wall TV screens around the circuit," said Tomassoli.
Tomassoli explained that the parish priest who came to bless the circuit for the event had expressed the church's 'discomfort' over the date.
He also added that the traditional gala dinner would not be held this year out of respect for the Easter festivity and that all the money saved would go to charity.
---