Monday April 9th, 2001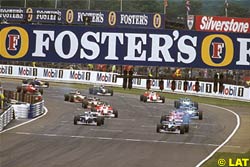 This year's British Grand Prix could take place behind closed doors if the foot-and-mouth disease continues to spread in the United Kingdom.
Since Britain's Motor Sport Association (MSA) decided to cancel a number of motor racing events in the UK due to the foot-and-mouth outbreak, rumours surrounding the cancellation of the British Grand Prix have been constant.
However, according to the latest reports and in what would be an unprecedented move, this year's race - due to take place on July 15 - could be ran without spectators on the grandstands.
The Silverstone circuit is near an agricultural land, and it is thought that foot-and-mouth has reached areas close to the track in Northampton.
Some parts of the British countryside have already been closed to visitors in order to prevent the spread of the disease, which undermines the economic value of livestock such as sheep, pigs and cows, but which is harmless to humans.
If the rumours are confirmed, Octagon - promoters of the British race - could stand to lose over $20 million as most of the tickets for this year's Grand Prix have already been sold and the money would have to be refunded.
---