Monday April 9th, 2001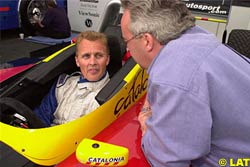 Briton Johnny Herbert could be in line for a return to racing with the SIGMA team in the American CART series in 2002.
Herbert, who retired from Formula One racing at the end of last season, made an unexpected return to the Grand Prix world when he joined the Arrows team as test driver for 2001.
The veteran driver admitted his intention was to race in CART this year, but he was unable to find a competitive drive and decided to choose the test role with Arrows.
However, Herbert, is now being linked with a racing seat in CART next year and during last weekend's race at Long Beach, the Brit was even seen inside the cockpit of the SIGMA car.
"We would love for him to be in one of our cars next year and that possibility is very strong," a source of the SIGMA team was quoted as saying by 7th Gear. "He will hopefully be doing some development work for us this year as well, if we can make that happen."
"I want to do this, big time and Iím here to sort this out," Herbert told 7th Gear, "maybe get a test to start with and show in that test what I can do."
The SIGMA team made their debut in CART this season and races with Spaniard Oriol Servia, who tested for the Prost Grand Prix team last month.
---