Tuesday April 10th, 2001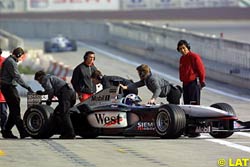 Most Formula One teams are likely to oppose a new testing ban which is expected to be introduced at the end of the 2001 season.
The sports's governing body - the FIA - is set to introduce a new testing ban this year, so teams will not be able to test during December. The current ban, introduced in 1999, forces teams to stop testing in November in order to reduce costs.
However, it is thought that most teams are against this decision because it will mean too little track time in order to make their cars reliable before the new season. Also, some observers believe the costs will actually be increased as teams will spend more money on winter development within their factories.
"There is a limit on the number of cars at one test, but there is no limit on the number of tests a team can do at the same time," Jordan's managing director Trevor Foster told Autosport.
"Teams are likely to need to start testing at 9am on the morning of January 1, because there is so little time to make new cars reliable."
The teams are to discuss the issue at this weekend's San Marino Grand Prix.
---