Tuesday April 10th, 2001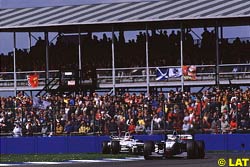 Octagon, the organisers of the British Grand Prix, have categorically denied that spectators will be banned from the event on July 15 due to the foot-and-mouth disease that is spreading throughout the country.
A report in a British newspaper on Sunday suggested that the race could be run with no spectators allowed into the Silverstone circuit to watch, to decrease the risk of spreading the disease.
But Octagon said that is currently not the case and insisted that the event - which is Britain's biggest sporting occasion - is set to go ahead as planned.
"The speculation and reports have been all taken out of context," said a spokesperson for Octagon. "I can tell you now, barring spectators from the event at Silverstone is not what we are planning to do.
"The only way things would change with regards to foot-and-mouth is if anything developed close to the circuit. At the moment there is no plans to disrupt the event."
The Silverstone circuit is based in rural Northamptonshire and the current closest case of confirmed foot-and-mouth disease is around ten miles away in Wootton. Octagon are continually monitoring the foot-and-mouth problem surrounding the circuit.
---