Wednesday April 11th, 2001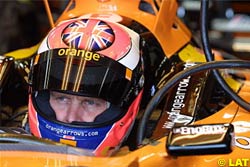 British driver Johnny Herbert will compete in this year's Le Mans 24 Hour race with the Champion Motorsports team, it was announced on Wednesday.
Herbert, current test driver for the Arrows Formula One team, will return to the French circuit after an absence of ten years, having taken an historic victory for Japanese manufacturer Mazda back in 1991.
The 36-year old Briton will drive alongside Ralf Kelleners and Didier Theys and they will use an Audi R8 in this year's event on June 16-17.
Herbert had already admitted one of his ambitions after retiring from Grand Prix racing last season was to compete in the French race again, as well as taking part in the Indianapolis 500.
The three-time Grand Prix winner is currently being linked with a CART drive for 2002, and he is scheduled to test for the SIGMA team this year.
Herbert could also compete in the Road Atlanta round of the American Le Mans Series in October with Champion.
---