Thursday April 12th, 2001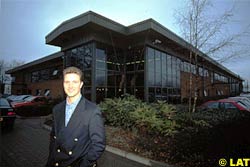 The Jordan Grand Prix team factory at Silverstone is undergoing some serious re-modelling in order to improved their facilities.
The plans to increase the size of the factory and to improve the facilities was announced by team boss Eddie Jordan some months ago. The work has now began and is expected to continue throughout the year.
In addition to rebuilt race and test bays, a new floor has been laid, the bays have been redesigned and the walls repainted. The hydraulics department has been moved to a new purpose-built area and the marketing team takes over the old hydraulics office.
The fabrication department is receiving improvements to its space in order to give this team more room. Modifications are also being made to the composites department.
"Working conditions have improved 100% since the overhaul - we've gained vital storage space, and all in all, it's a brighter, cleaner environment to work in," said test mechanic Danny Slater.
---