Friday April 20th, 2001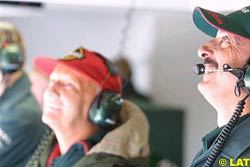 According to reports in the British press, American Bobby Rahal could become the latest victim of the struggling Jaguar Racing team following a disappointing start of the season.
Rahal, a former CART champion and owner of the team which bears his name, joined Jaguar at the end of last season in the hope of taking the Ford-owned outfit higher up the Formula One grid in 2001.
However, four races into the season, Jaguar Racing is only ahead of the European Minardi team, not having scored a single point and, according to the reports in Autosport, Rahal could be facing the axe already this year.
Right after joining Jaguar, Rahal carried out a major reshuffle within the team, with controversial decisions such as replacing technical director Gary Anderson by American Steve Nichols, whose influence on this year's car hasn't paid dividends so far in 2001.
The rumours appeared right before Brazilian Luciano Burti, who faced the boot from Jaguar for some time, decided to leave the Milton Keynes-based team to join Prost Grand Prix.
---