Friday April 20th, 2001
By Alan Baldwin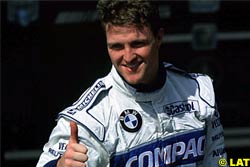 A move from Monaco to a new home in Austria and the appearance of his girlfriend alongside him at races have changed life for Ralf Schumacher.
The 25-year-old German Williams driver, younger brother of Ferrari's triple world champion Michael, won a race for the first time in his Formula One career last Sunday at Imola.
The comments from team bosses after his start-to-finish victory in the San Marino Grand Prix were unanimously congratulatory, though perhaps not quite what Ralf had expected.
"He has moved to Austria and spends less time bobbing up and down (on his boat) in Monaco," British newspapers quoted technical director Patrick Head as saying afterwards to explain Schumacher's frame of mind.
"Ralf moved away from Monaco and stopped playing with toys," concurred team boss Frank Williams. "He is concentrating on his racing."
Ralf, in a relaxed interview during testing at Silverstone, professed some bemusement at the comments and said he had taken most of his "toys" with him to his new home near Salzburg.
"I have no boat this year actually," Ralf said. "I sold mine at the end of last year. But I'm going to have another one next year, I guess.
"The only thing I have now, and I had her before as well, is my girlfriend but I have never said that officially.
"We just decided to do that this year. But that's all."
Ralf presented compatriot Cora Brinkmann at the season-opening Australian Grand Prix in March after keeping his private life off-limits in his first four seasons in the sport.
"The new romance was the talk of the paddock," commented the new and glossy monthly Formula One magazine, with a picture of the smiling couple holding hands.
Time Together
Schumacher said they had simply decided to spend more time together after a long friendship.
"I know that English journalists always said that I'm gay but I had no problems with that," he said frankly.
"We just wanted to spend more time with each other. We know each other for a long time but obviously I am a lot on the road, she was working, she was a lot on the road.
"The only thing ... was that she stopped working and would join me. Obviously then later everyone would have known it so we just made it official, that was all."
Schumacher said his new home near Salzburg allowed him to lead a lifestyle more in tune with his background and temperament.
"Basically, it's similar to the countryside I grew up in. That's why it suits me maybe a bit better.
"I have never liked Monaco particularly, I did like it for a certain period of my life but now we decided to go somewhere else and I think it's the better way.
"That's the perfect life isn't it? To go back from here and then not be bothered by anyone basically, doing a normal life. I am surrounded by normal people and I call myself normal as well.
"I have a relatively normal lifestyle, relatively for our circumstances I would say...I am just a more quiet person than someone else maybe in Formula One.
"I know what I want and I think I know how I achieve it but I don't need to show it to the outside basically," he added.
"I try to do my job as good as possible and the important thing is that I do it and that I do it within the team.
"But I don't actually tell anyone. That's the way I do it. It's like fitness. I do my fitness but I don't want any camera with it. It's a thing I do for me, for my team and for no-one else."
Sibling Rivalry
Ralf said he did not have a real rivalry with his brother, seven years older and with 46 Grand Prix wins.
"I don't have a real rivalry. I'm pretty happy for him if he wins races as he is if I do. You might say it's pretty strange for racing drivers.
"I think he wants to beat me and I want to beat him, there's no doubt. But then if it doesn't work out, try next time.
"I would have been happy for him if he would have been next to me on the podium in Imola instead of his team mate obviously.
"Basically Michael is just another driver because I always did things my own way."
He ruled out one day racing for the same team.
"There's no need to do that because one of us would lose, whoever that is, and I think we would be stupid to do that. Why not keep in different teams and make it more exciting?".
---