Friday April 20th, 2001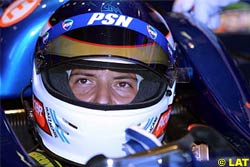 Following his departure from the Prost Grand Prix team, where he has been replaced by Brazilian Luciano Burti, Argentine Gaston Mazzacane could be on his way to the European Minardi team this season, in order to replace Tarso Marques.
Mazzacane, who was rumoured to have a performance clause on his contract with Prost, has been left out in the cold after a disappointing start of the season, where he has been clearly outperformed by team mate Jean Alesi.
However, according to reports in the Argentine press, Mazzacane could replace Marques at Minardi whitin a month, as the performance of the Brazilian has disappointed the small Italian outfit.
"It's still early to say anything," Mazzacane's manager Eduardo Ramirez told PSN.com. "But I can confirm that we are talking with another F1 team."
Ramirez also said that Mazzacane's departure had nothing to do with a performance clause, but to economical reasons.
"The main reason was economic," added Ramirez. "The team didn't have a good budget this season. Now with the entry of Burti, the new resources will allow them to make it to the end of the year."
23-year old Mazzacane made his Grand Prix debut with Minardi in 2000, switching to Prost at the start of this season.
---