Friday April 20th, 2001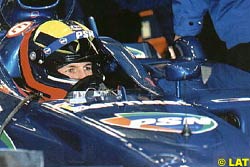 Brazilian Luciano Burti is not bringing any financial support to the Prost Grand Prix team, despite claims saying he replaced Gaston Mazzacane at the French outfit for economical reasons.
In an interview published on PSN.com on Thursday, Mazzacane's manager Eduardo Ramirez said his driver had left the team due to financial reasons.
"The main reason was economic," Ramirez was quoted as saying. "The team didn't have a good budget this season. Now with the entry of Burti, the new resources will allow them to make it to the end of the year."
However, Burti's spokesman told Atlas F1 that the Brazilian is not bringing any sponsors with him, and he will receive a salary for racing with Prost.
---