Sunday April 22nd, 2001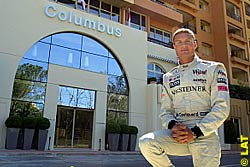 Formula One title contender David Coulthard said he has become more selfish this season after splitting with his American model girlfriend Heidi Wichlinski. "Clearly we were coming to the end of our relationship and if that had continued on into the season that would have been a distraction," the Scot was quoted as saying in the Sunday Express.
The McLaren driver, who leads the championship jointly with Ferrari's Michael Schumacher on 26 points after four races, survived a plane crash with fiancee Wichlinski a year ago. But he announced at the start of the season that he had put his wedding plans on hold to focus on his title hopes.
Coulthard, who recently opened a hotel in Monaco in which he has a stake, confirmed the relationship was over but denied that was why he was now enjoying the best start to a season in his Formula One career. The Scot won in Brazil and has had two second place finishes and one third so far in 2001. No other driver has been on the podium in every race.
"Maybe the fact that I have had some racing luck and performed well in the first four races is because my time is now, rather than because of anything else that has happened round about me," Coulthard said. "When you are in Formula One, be it a driver or whatever, you cannot travel as much as we do without being a bit selfish. That makes it a difficult thing for relationships.
"In the past that is something I tried to balance out, to say I won't be selfish. Now I am quite comfortable with the fact that this is what I enjoy in life and everyone has to fit in around me," he added.
---