Monday April 23rd, 2001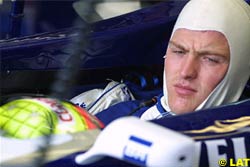 Formula One driver Ralf Schumacher, who recorded his first victory at the San Marino Grand Prix a week ago, was caught in a speed trap on an Austrian motorway on Sunday, local police said on Monday.
Schumacher, winner at Imola on April 15, was caught driving at 170 km/h (105 mph) in a 100 km/h (62 mph) zone in the western Austrian province of Salzburg, where the German lives. The Willimas driver had to pay 10,000 schillings ($650) as surety since he was not carrying his driving licence with him.
Head of Salzburg traffic police Friedrich Schmidhuber told Austria's APA newsagency the German would be treated like any other offender who in such a case could reckon on losing his licence for 14 days.
---