Monday April 23rd, 2001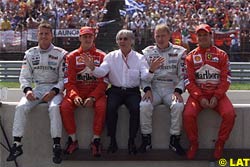 Formula One supremo Bernie Ecclestone was the biggest riser in the 2001 The Sunday Times Rich List, following a £1 billion boost from the sale of an extra 25 per cent of his SLEC company, which owns the commercials rights of Formula One.
With a total wealth of £3 billion, Ecclestone also occupies fourth position among the 20 fastest fortunes, with an average annual growth rate of £111.1 million. The 70-year old Brit sold a 50 per cent stake of SLEC to German media group EM.TV last year, and another 25 per cent this year to Kirch, who now owns 75 per cent of the company, which meant a big boost to his fortune.
Meanwhile, the Arrows team owner Tom Walkinshaw was the top Formula One boss in 193rd position with an estimated fortune of £170 million. McLaren's Ron Dennis was 201st with £160 million, while Eddie Jordan was 320th with £105 million and Frank Williams 362nd with "only" £95 million.
---