Saturday April 28th, 2001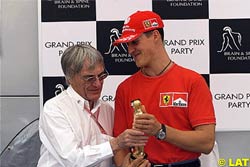 Formula One supremo Bernie Ecclestone turned prizegiver on Saturday by awarding one of the sport's first 'Bernies' to Ferrari's world champion Michael Schumacher.
The 70-year-old handed a gold-coloured statuette, similar to those handed out at the Hollywood Oscars -- only with the major difference of being in the Briton's likeness, to Schumacher at the Spanish Grand Prix.
The German had been named as last season's driver of the year at a Grand Prix party in London in February which raised 100,000 pounds for the Brain and Spine foundation. Briton Jenson Button was also honoured as top rookie while veteran British commentator Murray Walker received a lifetime achievement award.
"He's come a long way from the back of the grid to get this," said Ecclestone of Button, who had earlier qualified his Benetton on the back row.
The fourth recipient was track neurosurgeon Sid Watkins, for his contribution to Formula One safety.
---