Sunday June 24th, 2001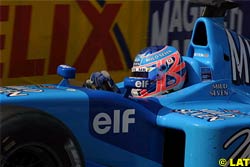 Briton Jenson Button will remain with the Benetton Formula One team next year, but could move to Jaguar in 2003, according to paddock sources on Sunday.
Speaking after finishing 13th in the European Grand Prix, Button, 21, told Reuters he was unaware of any moves by other teams to recruit him, though he admitted he was intrigued following a day of intense speculation about his future.
"It's going to be interesting," he said. "I think I am going to be racing with a different team in every race. I don't know if it's nonsense, but, on my life, I have never heard anything at all."
As Button denied knowledge of the speculation, however, a Jaguar source made it clear the team were interested in signing him for 2003, when his current two-year spell on loan to Benetton from Williams ends. The source said Jaguar had approached Button's representatives and hoped to recruit him if he was not returning to Williams-BMW, for whom current drivers Ralf Schumacher and Juan-Pablo Montoya finished fourth and third in Sunday's race.
Jaguar team chief Bobby Rahal dismissed reports suggesting Button was about to join his team for 2002.
"We've got Pedro (de la Rosa) and Eddie (Irvine) for next year," he said. Contrary to reports, Rahal said he had not spoken to Benetton chief Flavio Briatore about Button. Jordan team chief Eddie Jordan also denied he was interested in signing the Briton, saying the reports were "completely untrue."
Asked about his future on Saturday, Button said: "I'm here next year, contracted and confirmed."
When he was asked if he was confident he would be returning to Williams, with whom he made such a sensational impression last year in his maiden season, he said: "That's the way it should be, but we'll see. I'm not really concerned. I'm not really thinking about that. This year, and next year, are the important years for me at the moment, especially this year, race by race.
"I'm not thinking that far into the future. Anything can happen next year. There's a chance that I might not go back there. There's a chance that Michael Schumacher might not be at Ferrari in two years. Anything can happen. You never know."
Winning driver
Talking about Ferrari, when asked to comment on suggestions that he may join them, he added: "If they were winning, if they were the best team on the circuit. But I would drive with any team that would help me win the championship. And it is the same with them -- they'll only want a winning driver."
Much of the speculation stirred up by talk of Button's future followed reports that Briatore may leave Benetton and join engine-suppliers Asiatech, who handle the Peugeot Formula One engines. This followed an announcement on Sunday by Arrows chief Tom Walkinshaw that his team would not be using Asiatech engines next year.
It was also claimed that Prost, who this season are using Ferrari engines, may switch to Asiatech.
---